Catherine's story: reunited in Swayambhu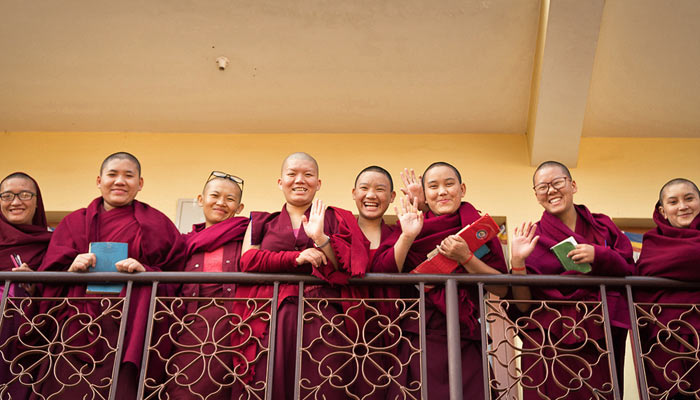 Longtime AHF supporter Catherine Cussaguet volunteered with some of our partners in Kathmandu earlier this year. She recently returned for another visit, and shared her experience with us here.
A year ago, I taught some yoga to the nuns at Keydong and to the Tibetans at the elders' home in Swayambhu. This fall, I was really excited to return.
When I arrived at 8 in the morning the courtyard was quiet, but I found Ani Tendol la, who runs the nunnery. We had tea and a lovely chat before I headed to the roof of the building where the nuns were already studying, reading and memorizing Tibetan texts.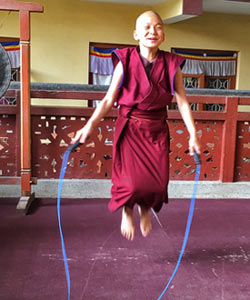 I had not been in contact for a year, so their first reaction was of surprise and remembering who I was. Soon enough, the younger ones started to mimic a few yoga poses and a whole group of older nuns showed up at the balcony with warm greetings. The nuns looked happy and healthy. Their spirit was strong, and so was the nunnery, where earthquake repairs and upgrades had been completed with the support of AHF.
I did a little more yoga and jump roping with the younger ones before I left them to their studies. Doesn't it look like Lekey is levitating while jump roping?
A 20-minute walk took me from Keydong Nunnery to the home for Tibetan elders at the top of the hill. One building had been badly damaged and needed to be torn down after the earthquake. For two years, the elders were living three to a room. Although their spirit was remarkable through this difficult time, they are now clearly enjoying their new home, which was completed this summer, thanks to AHF.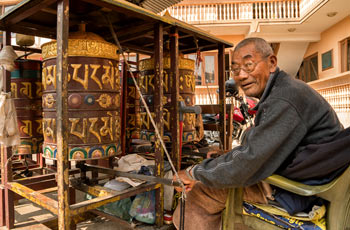 I was so happy to see the place and visit with my former students. The warmth I received from them was quite overwhelming. Despite some illnesses and rusty joints, the prayer wheels were turning and many of them were still walking their Kora around Swayambhunath twice a day. When lunch time came, they lined up joyfully at the entrance of their brand new, spacious dining room.
The wonderful staff and the Tibetan women's group who run the home make every day a good day for these elders.
And the elders reminded me they pray for the whole AHF family every day.