Tibetan education
"The best way, effective way to keep one's tradition is, I have the view, through modern education."
Tibetan children growing up in exile in the refugee settlements may never see Tibet firsthand. They live as outsiders, stateless, keeping their culture alive as best they can.
Education is the best—perhaps the only—way for Tibetan refugees to join the 21st century. AHF works closely with settlements across the Himalaya a to create a path to learning that doesn't sacrifice their identity, filling in the gaps between the camps and college so refugee children can have the opportunities offered by a modern education without losing the history and language of their homeland.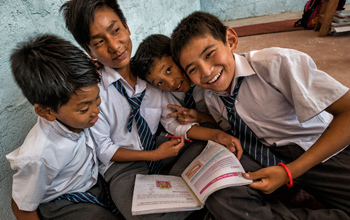 It starts with the smallest kids—like the day care students in Dhargyeling, for whom we fund teachers and that all-important school lunch. They may go on to a local Tibetan school, and we support some of those too.
If the nearest school is a five-day walk, children can go to school in a larger settlement and stay in the school hostel. Most Tibetan families are so committed to their children's education they will make the sacrifice to send them away to study, and we support the hostels so they are in good hands in their home-away-from-home.
And then there's college. Many Tibetans don't even consider it because they just cannot afford it. This final step is so important for stateless refugees that we created scholarships to help send students to university. They are very motivated, they are succeeding, and many have since returned to give back to their communities. They may still be stateless, but nobody will ever be able to take away their education. It's one of the most important things we do.
$50
outfits a Tibetan student with a uniform, books, and supplies
Preparing for the future in Mustang

Mustang, the former Kingdom of Lo, is remote—a time capsule of Tibetan Buddhist culture within the political borders of Nepal. Isolation had left the villages impoverished and time-honored traditions fading. We realized that education, including Tibetan language instruction, was essential for these communities to survive.