Sambhota Primary School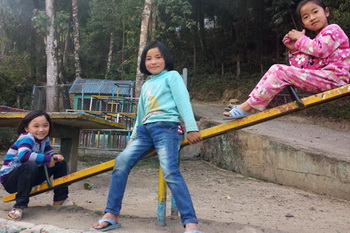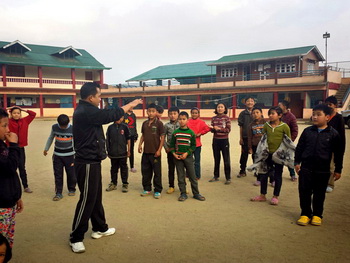 Sambhota Primary School, near Darjeeling, is both sanctuary and school for 80 Tibetan refugee children from the remote camps scattered across Dolpo in western Nepal to Arunachal Pradesh in India.
Eight years ago, AHF built the system that brings clean drinking water to the school. I had not returned until this March, and was fortunate this time to have Jamling Tenzing Norgay— Norbu's brother—join me to meet the students and the headmaster, Kelsang Dawa la. Kelsang la is in his 23rd year of service for the education of Tibetan children in refugee schools all over India, and it was a pleasure to meet him again after so long.
But it was the children, from all over the mountains, who just take your heart away. Fair, red cheeks, eyes with hope and so vulnerable. Some of their parents cannot afford to take them home during the two months winter break; many of them have not been home for years. Jamling—a man of few words—also asked a lot of questions about the students and how he could help.
Without Sambhota, these 80 children would still be in a refugee settlement or a remote mountain village, tending to ponies or small potato fields. Tibetan exiles usually have no secure legal status, and there are few sure things in life for them, but the education they are getting because of this school will follow them wherever they go.
-Tsedo