Events
March 23: An Evening to STOP Girl Trafficking
Thank you for making AHF's 4th STOP Girl Trafficking evening a success!
We heard from three incredible, intrepid women: our visionary partner Dr. Aruna Uprety, rockstar climber Pasang Lhamu Sherpa Akita, and award-winning journalist and filmmaker Subina Shrestha. Plus author and climber Jon Krakauer.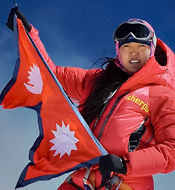 One of Nepal's rising stars, Pasang Lhamu Sherpa Akita has weathered the trials of the mountain—and a society that still considers mountaineering to be a man's job. Pasang began climbing at 15 and has seen the world from the top of Mt. Everest and K2. Following the 2015 earthquakes, she immersed herself in relief efforts. Her many accomplishments earned her the National Geographic 2016 Adventurer of the Year and the 2017 Explorers Club Tenzing Norgay Award, but what drives her these days is inspiring young girls: "I believe what helped me the most in my life was the basic education that I had received… education will [allow girls] to accomplish many things and open the door to many opportunities."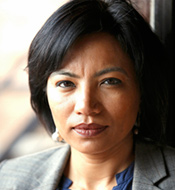 Subina Shrestha is an award-winning journalist and filmmaker. From undercover reporting in Myanmar during cyclone Nargis, to investigating child slavery, and to covering Nepal's earthquake and its aftermath, Subina has steered major news coverage, often as the only international broadcast journalist on the scene; and told stories of people whose lives have been affected by natural and human-made disasters. Her films have been broadcast by Al Jazeera, BBC, ITN, Arte and festivals around the world. She is a 2016-2017 Nieman fellow at Harvard.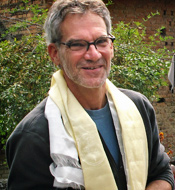 A passionate advocate for STOP Girl Trafficking, Jon Krakauer serves on the board of the American Himalayan Foundation. His New York Times bestsellers Into Thin Air and Into the Wild prove that sometimes truth is stranger than fiction. He has been published by Outside, National Geographic and The New Yorker, among others, and received an award in Literature from the American Academy of Arts and Letters. Other books include Missoula, Under the Banner of Heaven, and Three Cups of Deceit, with proceeds from the latter going to STOP Girl Trafficking.
Dr. Aruna Uprety is an expert in rural health development and a passionate advocate for the rights of girls and women. She founded RHEST in 1992 in response to meeting with Nepali women and girls in Indian brothels, some as young as 14. When asked if they wanted to go home, they said it was too late for them, but implored her to warn others against being lured into slavery by traffickers—the genesis of STOP Girl Trafficking. In addition to providing leadership and strategic guidance to RHEST, Dr. Uprety has worked in Bam, Turkey following the earthquake, Sri Lanka during the civil war, Inner Mongolia, Afghanistan, and rural China. She has a Masters in Women and Development from The Hague and is a regular contributor to Nepal's leading newspapers on matters of health and women's rights.