Inside Jawalakhel camp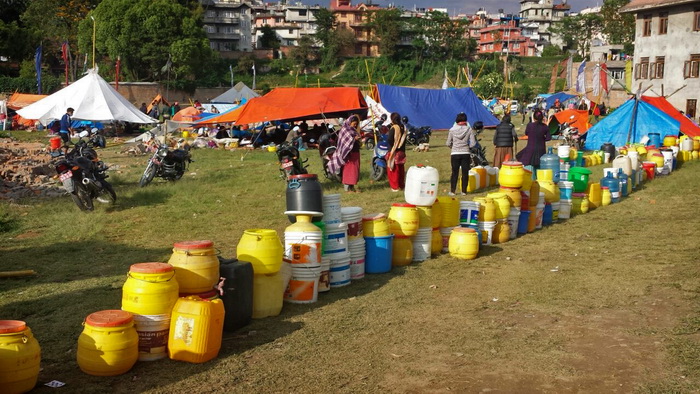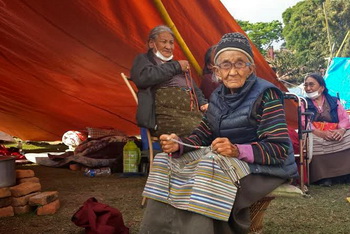 "This is like the camps we had in the '60s and '70s after escaping from Tibet into Nepal," Tseten-la said. He is from the Tibetan refugee settlement in Jawalakhel, Kathmandu.
Like many other tented grounds all over Nepal right now, the tent city here is also holding on. The elders from the old people home here have a large orange tent. Children are running around helping their parents. The Norbulingkha Football Club is coordinating the camp.
They explained that they got a tanker of drinking water, but that has since run out, and they haven't been able to buy food, fuel or even tents. Fortunately, they had managed to buy some bottled drinking water to last them two more days. Hygiene, mosquitos and basic water and food is the challenge here. We were able to get them some more bottled water and also hand sanitizers, disinfectants, gloves, face masks and other things for hygiene.
The primary school wall has collapsed. The carpet weaving hall, the camp's only source of income, has been badly damaged. And the refugees here are already worried about the present and also the future.
Amidst all this tragedy, the community here is conducting group prayers in the morning and afternoon for those who are less fortunate and those who have passed away.
I am in touch with other refugee camps in the remote areas which are in worse condition. One 83-year-old woman died when her mud hut collapsed. We are yet to find out more. The roads are damaged and we cannot reach those places. It is really very frustrating to hear and be unable to do anything, other than to assure that we will be there to help rehabilitate the camps, the schools and the families.
-Tsedo