No school in Syabru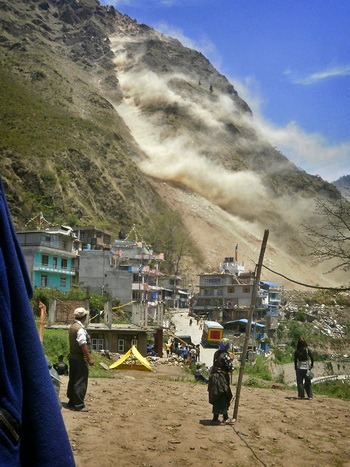 Last week I met Gonpo Wangchuk-la, my friend and headmaster of Shermay Wangphel Tibetan Primary School. The school is part of the settlement in Syabrubesi, by the trailhead of the famous Langtang trek. I read a letter he wrote to me:
"I feel lucky and unlucky from this huge earthquake. I feel unlucky because all the building is damaged and Mr. Lobsang Dawa (Tibetan teacher) was injured by falling stone on his head when he was jumped from his room to the ground. I feel lucky because all the Tibetan are safe and esp. I got a chance to handle all my Tibetan students to their concern parents without any injuries."
It was lunch time for the children when the great earthquake of April 25 shook the ground and destroyed much of the school and the settlement. There have been many aftershocks since then, and the families are still living in tarps in the fields. Since the settlement lies next to the river at the bottom of a steep slope, rocks and stones fall with every tremor or rain.
They are already thinking of relocating and abandoning this settlement which began after leaving Tibet in the early sixties.
The school is lost—the damage is so extensive and the location makes it vulnerable to future landslides. Gonpo-la is already in Kathmandu trying to admit the children to a Tibetan public school there. But the students face a challenge—it is expensive to study in Kathmandu.