Forecast: 80 degrees and sunny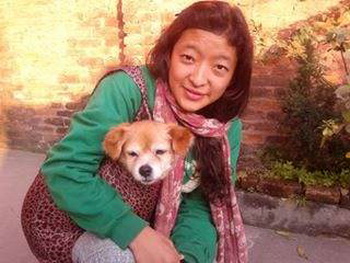 As a tribute to His Holiness the Dalai Lama's 80th birthday on July 6, AHF started the 80 4 80 program to send 80 Tibetans to earn a college degree. We already have 11 scholars in colleges in India and Nepal. Read some of their stories below.
Tenzin Pema is pursuing a B.S. in Nursing at a school in Bangalore. Her father sells souvenirs in a tourist spot in Pokhara, and his seasonal earnings are not enough to send her to college. She was selected for this program after a competitive written test and an interview, and we are very proud of her. Coming from Tashiling Tibetan Refugee Settlement in Pokhara, Nepal, she wants to serve the community:
"I now wish to serve people and save lives. I shall always remain indebted to the sponsors and all the people working for the sole purpose for the betterment of the children in need. Thank you for changing the lives of many including me by supporting us in gaining our education and making a way for our career. May all of us be able to help others in their need. I shall ever be thankful to you for your kindness."
Help more students like Pema earn a degree
Ngawang Choden, is into her 2nd year at NITTE University in Mangalore, India. She also dreams of becoming a nurse to serve other people. Her mother is a housewife at Jampaling Tibetan Refugee Settlement in Pokhara, and the salary from her father is just enough to take care of the house. 80 4 80 means Ngawang will be the first in her family with a college degree. And it will bring hope, security and comfort to her family, who has struggled for the past 50 plus years as refugees in Nepal.
"To join in any institution is costly, as everyone is demanding for high fees. Such a high amount can't be managed by my parents, as my father is the only bread winner in my family, which has to feed five members including me. From your helping hand, I got this golden opportunity to study and do my best to reach this goal, and to go shoulder to shoulder with others. I will never forget that and I will do my level best on my further studies."