Yoga moves at Keydong Nunnery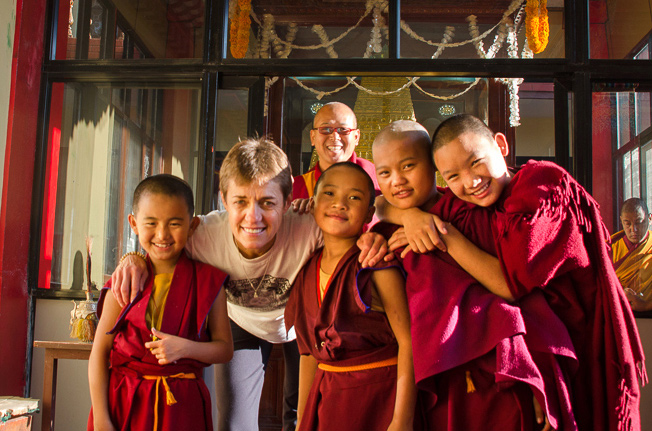 Longtime AHF supporter Catherine Cussaguet volunteered with some of our partners in Kathmandu while traveling the Himalaya. She shares her experience here in part 1 of 2.
This fall was my first visit back to Nepal since the earthquake. As I was in Kathmandu for two weeks at the end of October, I asked Tsedo if I could do some volunteer work. He suggested I give some yoga classes to the nuns at Keydong Nunnery and to the elderly Tibetan refugees of the Old Age Home. They are both located in the area of Swayambunath. This was going to be a new experience both for me and them.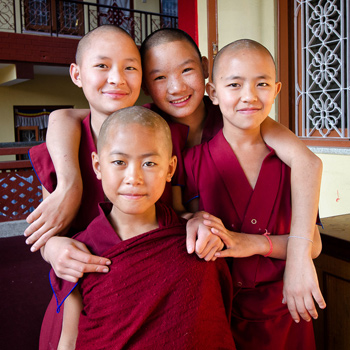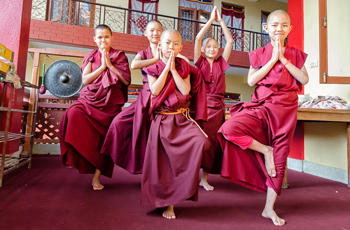 Each morning I arrived at Keydong around 7.15am after crossing the busy Ring Road, already filled with traffic. Once I entered the courtyard, some "Good morning!" or chanting from the assembly hall welcomed me, a nice change from the outside honking.
The nuns at Keydong are very busy: prayer starts at 4.30am until about 7am. Then they have school classes at 9am. Yoga was scheduled at 7.30am. My idea for the class was to offer some movements, stretches, and breathing exercises, because the nuns do quite a lot of sitting. Thirty of them were preparing an important study trip to India and could not attend. But the youngest ones, as young as eight years old, were very enthusiastic. If the group was large, we stood in the courtyard. With a smaller one, we gathered on the carpet in front of the assembly hall so we could also do some floor exercises. At the end of the first week, many nuns could memorize a sun salutation, something I had hoped for, so they would remember it after my departure.
The nuns loved the novelty of the class and the challenge of practicing their balance on tree poses and their strength on planks. Their ultimate favorite sequence was the jumping one. It brought exhilarating laughter and flying sandals and robes.
The second week happened to be Tihar, a big Nepali holiday, and they had time off from school. I had the opportunity to do a Kora around Swayambunath with my little students holding my hands the whole way around. I was also very fortunate to join them for a daylong Puja near Boddhanath. I enjoyed watching Ani Chendon-La leading the ceremony with such great precision and gentleness. Some chanting was so beautiful that it brought tears to my eyes.
Those two weeks went fast. It would have been nice to get to know some of them more. But I loved seeing happy and healthy young girls and women, living in a safe and nurturing environment that felt like a big family. During those two weeks, I felt their eyes observing me, not from a place of judgement but from open hearts who welcome a stranger's visit with gratitude. Some gestures such as rolling my mat out, bringing my shoes back at the end of the session, or worrying if I had had breakfast were very sweet. Warm smiles and gestures made up for words and I was very touched when an avalanche of khatas fell around my neck after the last session, a traditional way to say thank you and goodbye.
Tashi Delek, Keydong! I'll come visit again.
- Catherine Cussaguet