Yoga moves, part 2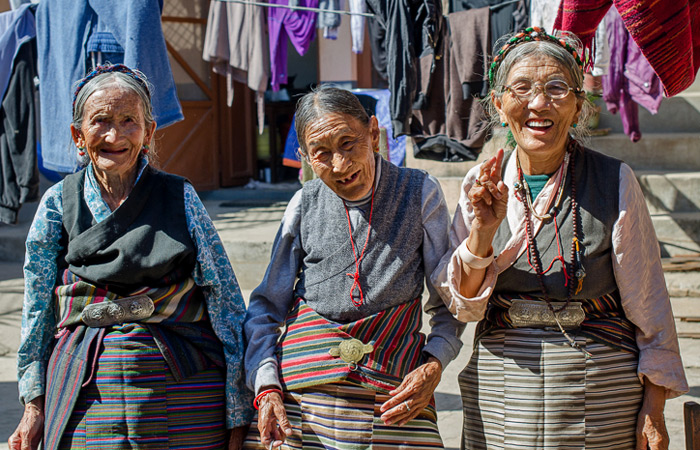 Longtime AHF supporter Catherine Cussaguet volunteered with some of our partners in Kathmandu while traveling the Himalaya. She shares her experience teaching yoga to Tibetan refugees at the Old Age Home here in part 2.
A strong whistle blow is the "gentle" way to announce that it is time for yoga class. The whistle belongs to Dewa Tsering, a resident of the Old Age Home in Kathmandu. The home is located in the Swayambunath area and offers shelter to about 40 elderly Tibetan refugees who have no other support. Tashi Tsomo and her husband Lhakpa Tsering are in charge of running the home, and live there with their two children.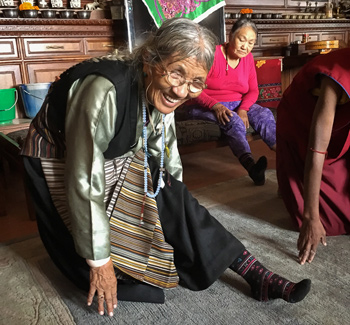 I was in Kathmandu for two weeks, and after an earlier class at Keydong Nunnery I would come every day to give a yoga class to the elders.
At 10.30am, we would gather in the assembly hall, push away the benches, tables, and prayer wheels, and roll carpets out. Tashi attended the class as well. Her presence was very helpful. Most of the elders do not speak English, so Tashi was translating for us. She also helped me assist them with the postures. About 15 elders came to class every day, including Ani Tenzin—the oldest at 93—who wanted to try everything, always with a big smile on her face.
I loved their enthusiasm and willingness to learn. They were open to this new experience, so we did poses standing, sitting, kneeling, and lying on their stomachs or backs. We included a lot of stretches of the shoulders, the chest, the back, and we talked about posture. We did some self-massage, especially of the hands, some neck movements, some balance practice. I could not help much with badly aching knees, but we practiced breathing techniques which helps lower blood pressure.
During class, they laughed about themselves, teased each other and myself—I am not sure everything was translated back to me... By the second week, they could already remember a lot of the moves.
I discovered that I could not give these elder Tibetans more than they were giving me.
What amazed me the most was their spirit and the atmosphere of the class. Like all elderly, they had health issues, their bodies were achy and walking was slow. They had lost their home again with the earthquake, and while it was being rebuilt, they lived in shared rooms and had no dining room. They also had to put up with the construction noise and materials. Yet that did not stop them from going through their day, turning their prayer wheels. Smiles, joined hands, and "Tashi Delek" greeted me all the time, which was very touching.
Some mornings I would find residents finishing their Kora and climbing back to the house, one little step at a time. We would walk together and they always seemed so happy to see me or have their picture taken.
It brings me joy knowing that they have been able to continue doing some yoga since I left. Tashi really understood the purpose of what we were doing, and I left her some notes so she can lead the class. I came to Kathmandu just with the intention of providing a little help. But I discovered that I could not give these elder Tibetans more than they were giving me. Their appreciation, gratitude, and spirit were limitless: a valuable lesson for me to take home.
- Catherine Cussaguet