Notes From the Field, Part 1: In Kathmandu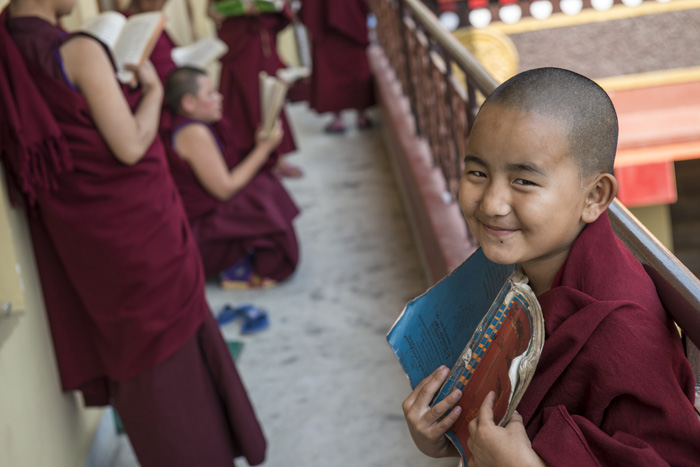 The first morning of a good field visit begins at Keydong Nunnery for early tea and a catch up with the remarkable Ani Tendol. Coming into the sunny courtyard to the chanting of the young nuns bent over their books always lifts the spirits. Tibetans in the Kathmandu valley rely on this nunnery for their spiritual needs. Easy to see why. They are serious about the dharma, but the atmosphere is warm and welcoming.
And on to the Tibetan's Elder Home!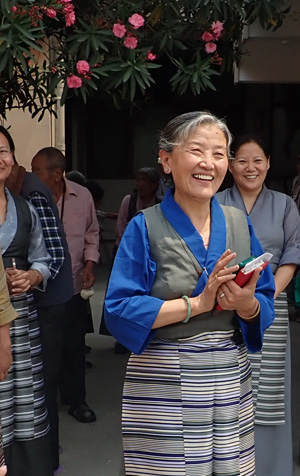 Joy & Comfort at the Tibetan Elders' Home
Acha Sherab-la had just become volunteer president of the Tibetan Elders' Home when the earthquakes struck, demolishing the place 'her' elders called home. She spent the next three years rebuilding. But when we asked her about the highlight of her challenging tenure, she said, "The joy – the joy I feel at the end of the day when I've been working here with these lovely old people and the satisfaction in completing the job. It stays with you and changes you."
The Tibetan Elders Home was severely damaged (read more) by the 2015 earthquakes. It is run by a talented group of Tibetan women who are elected to a three year term, and Acha Sherab-la's group started just before the earthquakes hit. Their task, rebuilding the home and sheltering the elders, was daunting – but they faced up to the challenge and succeeded. With AHF as cornerstone funder, the new building is finished, the other buildings restored, and the 42 elders – no longer several to a room – are happy and settled into their sunny new spaces. It was an intense and difficult hard three years, and that she thinks of the joy, and not the travails, speaks volumes.
As we were leaving, an 89-year-old woman stopped us on the stairs to thank AHF for "being there." She wheezes a bit from asthma, but is still vigorous, articulate, and volubly grateful.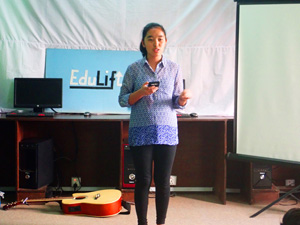 Creativity breakout, community engagement
EduLift is a startup with a big vision: to give Tibetan high school students – through art, creativity, and technology – tools to think critically and express themselves beyond the dry memorization that rules schooling in Nepal. We sat in on a meeting of their month-long Explore seminar. After just ten days together, a big group of Tibetan teenagers were breaking out and performing spoken word poetry, dance, and original songs.
EduLift also emphasizes leadership and community engagement. The group did impressive work organizing the AHF eye camps for Tibetans in the Kathmandu valley. The first year was successful beyond expectations and the second year of eye camps is on target.
On to Pokhara. The Kathmandu domestic airport is the essence of (usually) controlled chaos, but 30 minutes later the plane touches down to a view of the Annapurnas and divine Machapuchare! Read more in Part 2