Notes From the Field, Part 2: In Pokhara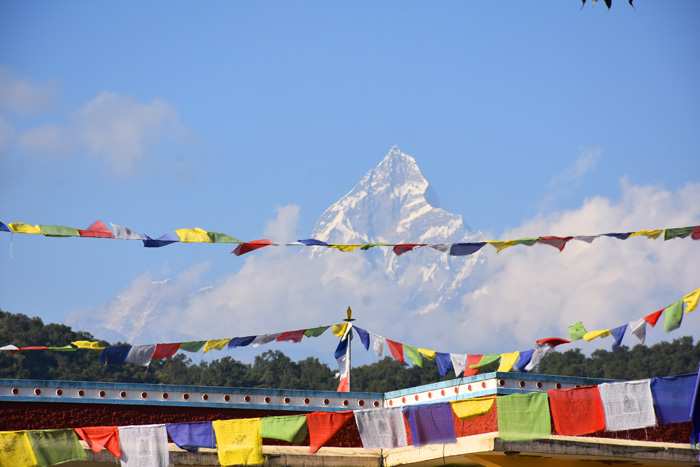 Our First Stop:
The Jampaling Tibetan settlement is about a 45 minute drive from Pokhara. Last year, when the a significant part of the settlement was under threat of encroachment, we helped them with an ingenious solution: building a row of 15 shops on the roadside as a border. We handed over the keys to those shops to 15 newly minted Tibetan entrepreneurs. It was heartwarming to see them all open and bustling: colorful cafes, tea shops, motorcycle workshop, mobile phone repair, and handicraft sellers all doing business in the new storefronts since then. There is even a Tibetan Medicine clinic.
We had our pulses checked, and Norbu had the best results – the Amji, the Tibetan doctor, said he would live a long life. Not only do these 15 fledgling businesses protect the settlement land against appropriation, but the new owners proudly showed us through their eyes the hope, opportunity, and future these shops bring for the vulnerable Tibetan community here.
Gentle Living for Veteran Elders
We then walked down further to meet the Jampaling camp elders. Thirty-five lders live here, most veterans from the Mustang resistance. Every year there are fewer elders, and we treasure seeing the familiar faces on each visit. They have gone through an arduous and rough past - escaping from Tibet; then regrouping and fighting in a guerilla resistance against the Chinese; and finally having to disband, abandoned and penniless. That we can make their days a little gentler is an honor.
Tea Time & Parental Pride for our Osher Scholars
In Jampaling and two other camps, we were able to sit down and talk with our Osher scholars. It was enlightening to finally meet many of their parents over tea and discuss how their children and families were doing. These parents have spent decades walking up the trekking trails in the mountains, opening their bags of souvenirs and laying them out on cloths by the side of trails for tourists. In the winterm, many of them go to all corners of India and do the same thing selling sweaters. They are seeing the first generation of college graduates in their family, and we saw that it completely lit up their lives. The students chimed in that, since people so far way cared about them, they were determined to do well in school and make their parents and AHF proud. More than 60 students have graduated and we have 81 scholars in school this year.
Read Part 1, on Kathmandu, here!