Learning moments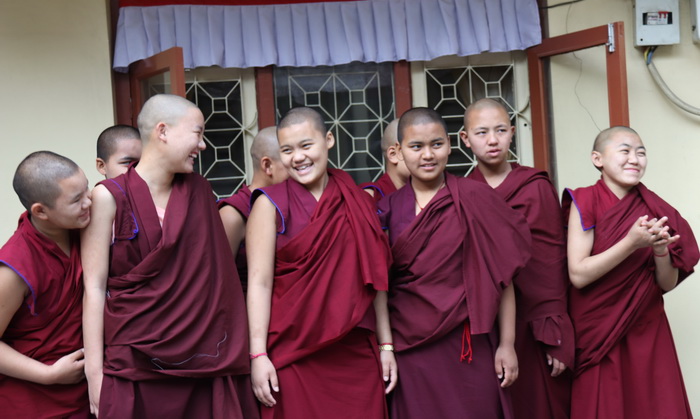 We slipped out early our first morning in Kathmandu to catch the nuns in Keydong before they started their morning studies. Walking through the gate into the walled courtyard, the chaos of trucks and buses and people on the road fell away and there was a moment of hush before we were spotted and the nuns ran to welcome us. Over strong sweet tea, the tiny but mighty Ani Tendol, manager of the nunnery, thanked us profusely for the new well and water system. "The nuns now have enough water for drinking, and for bathing and washing their robes. You can't imagine how much difference it makes for them. Everything is lighter and cleaner now."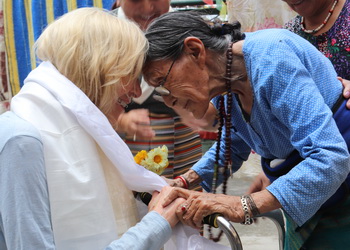 From Keydong we did an auspicious kora around Syambunath temple and headed to the Home for Tibetan Elders. Walking up the stairs to their home, newly rebuilt after the earthquake, I always have a frisson of excitement. I love this place and our history here – the gentle elders, finally with a place to call home after long, destitute times as refugees, the group of Tibetan women from the Kathmandu community who volunteer their time to keep the place running well, the monk who has led the elders in prayers every day for so long he now qualifies to live here too. And there they all are at the top of the stairs, with their khatas and canes and smiles, happy to see us again.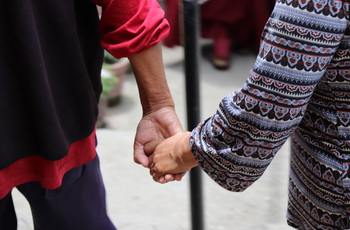 As our SGT partner, Dr. Aruna Uprety, says you have to know the reality on the ground. Going to the field, we always learn something new. On a previous visit to Keydong, we learned (over tea) that their well had run dry and they had to truck in water. There are always surprises, and delights – like the news on this visit that two of the Tibetan elders had fallen in love and married.
In Nepal, people believe in you when they see you face to face over time, and that keeps building the trust and mutual respect we have with our partners. And all of it makes us better stewards of the faith you have placed in us to do the very best with your generosity.