Hospital and Rehabilitation Center for Disabled Children
"For me, HRDC is not a hospital. It's a temple."
Nepal is a country of many mountains, few roads, and subsistence farmers. Health posts in rural areas are often ill-equipped and understaffed, and for the 80% of Nepalis who live on less than $2 per day, a child's serious injury or disability can debilitate the whole family. So many children just go untreated, literally imprisoned by their disabilities.
A child's twisted leg may make the already strenuous walk to school impossible, condemning them to a life of illiteracy. A badly-mended broken arm shrivels future employment options, and lack of awareness about the causes of disability can leave children ostracized from the community.
Every year, the Hospital and Rehabilitation Center for Disabled Children (HRDC) mends thousands of "broken" children from all over Nepal, boys and girls from poor families who would otherwise face a lifetime of suffering. It's thanks to the vision of Dr. Ashok Banskota, who felt passionately that his skill could and should help these children, regardless of their ability to pay.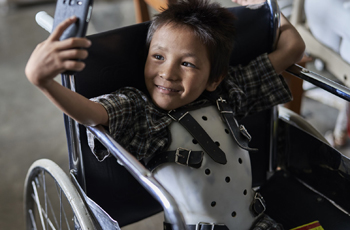 A surgeon with a mission
Dr. Banskota grew up in Nepal, trained in orthopedics in India and the US, and then returned to his homeland. What he found was that medical care in Nepal was shockingly limited, particularly for poor children in rural areas. Other doctors could have become discouraged and left Nepal for a more comfortable life, but Dr. Banskota decided to stay and lend his surgical talents to children with conditions that were treatable but beyond their families' means: surgery for bad fractures, bone infections, burns, or birth defects.
Dr. Banskota was working in a makeshift hospital in Kathmandu when we first met him. Despite his small team's tremendous work, they could only meet a fraction of the need, and the wait list—hundreds of children needing surgery but no room to admit them—continued to grow. We were so impressed by his vision and determination to do so much with so little that we committed to help build the Hospital and Rehabilitation Center for Disabled Children.
More than 110,000 mended children and counting
Led by Dr. Ashok Banskota, and now joined by his son Dr. Bibek Banskota, HRDC has grown into the premier pediatric orthopedic hospital in Nepal, with a network that reaches disabled children all over the country. With five operating rooms and a skilled surgical team, the world-recognized center has helped thousands of children live normal and pain-free lives, sometimes healing patients who come to HRDC after treatment failed elsewhere.
Surgery is just the beginning. The staff address their young patients' full spectrum of medical and social needs, and they do it with thoroughness and compassion. Rehabilitation begins with physical therapy and any necessary prosthetics, all crafted in-house. And it doesn't stop there: HRDC offers community-based services, following up with young patients in their homes, teaching their families how to care for them, and offering programs to encourage social inclusion. Three satellite clinics, partnerships with other hospitals, and mobile camps extend the HRDC's reach throughout the country, so simple injuries can be treated closer to home.