Sherpa education
With Sir Edmund Hillary we've supported 27 schools and helped improve the quality of education in the Khumbu. Today the focus of our work there is still education, the best hope young Sherpas have for a better future. And by attending school close to home, they are better able to preserve Sherpa language, culture, and traditions.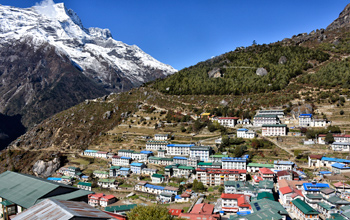 Our support for education includes scholarships for students from the Khumbu and children of families who lost loved ones in the 2014 Everest avalanche, claiming the lives of 16 mountaineering workers.
2011 marked the 50th anniversary for Khumjung School, the first school built by Sir Ed. Over the years, Khumjung School graduates have gone on to become pilots, doctors, environmental leaders, and the director of the Himalayan Trust. Sherpas put great emphasis on education and believe that it, along with keeping their cultural identity, is key to their future. It's the best legacy our dear friend Sir Edmund Hillary could have hoped for.