Teens Against Trafficking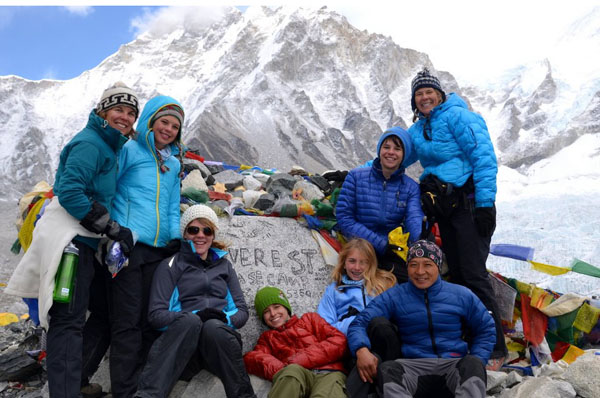 Matt & Kaylee Moniz and their close friends Jordan Zoller, Olivia Hess and Cam Dudiak, all 8th graders, went on a grand adventure in March: they traveled to Nepal for the 70 mile Everest Base Camp trek!
As part of this exciting journey, they decided they wanted to give back to Nepal and, after researching and meeting with organizations who work there, they all agreed that the American Himalayan Foundation's STOP Girl Trafficking project was their choice. So they formed Teens Against Trafficking to help prevent girls from being trafficked and each member has committed to raise at least $1,000, enough to keep ten at-risk girls in Nepal safe and in school for a year.
Matt is a seasoned adventurer at 14. Last year he was awarded Outside's Kid Climber Adventurer of the Year after he climbed to the highest point in all 50 United States in 43 days. (We're impressed!) He and his twin sister Kaylee, and friends Jordan, Olivia and Cam are just getting rolling, but they already have thoughts of creating their own High School Club to support STOP Girl Trafficking next year.
Teens against Trafficking did fundraisers for weeks in their home town of Boulder until they took off for the Khumbu. From there, the rest was up to their young legs and lungs. From what they reported, the group had a successful trek, making friends and taking in the incredible scenery along the way.
After arriving at Base Camp, Matt and Kaylee's father, Mike, was able to continue to the summit and get a picture of himself holding one of the small flags promised to Teens Against Trafficking donors. Anyone who gave over $500 to Teens Against Trafficking received a small token to commemorate the Moniz clan's great skill and determination as climbers, but everyone involved will remember their even greater generosity and compassion.
Thanks again to the talented Moniz family and the entire Teens Against Trafficking network! We can't wait to hear what they are up to next!