Kickin it up a notch, Pertemba Sherpa style 1980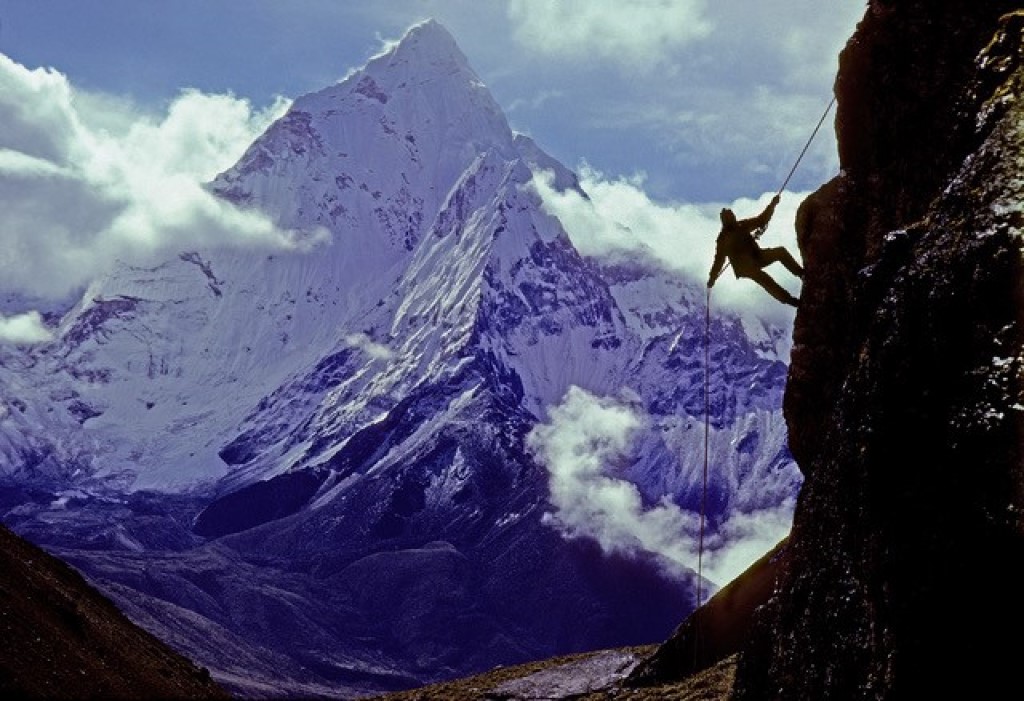 Guest blog from award-winning photographer, writer, explorer and dear friend of AHF, Gordon Wiltsie.
In this throwback to September 1980, veteran expedition sirdar Pertemba Sherpa, an old friend of AHF, demonstrates rappelling to an audience of his colleagues who had enrolled in an early technical mountaineering seminar for Sherpas. Although many had years of experience in the high mountains and some had even summited nearby Everest several times, most had been taught only a hodgepodge of basic skills. Though some were reluctant to try it, most did and were delighted to have learned to back off the cliff themselves.
This session was part of three weeklong classes sponsored by Mountain Travel Nepal and organized by four guides from the former Palisade School of Mountaineering in Bishop, California: its director John Fischer, Dr. Peter Hackett, Jay Jensen and myself. Pertemba was our local co-leader, with Pasang Kami, another veteran sirdar and old friend of AHF. Peter had just opened a ground breaking high altitude clinic in the village below mount Ama Dablam and learned through his friendships with his Sherpa neighbors how few technical mountaineering skills these local professionals had been taught by the expeditions that hired them. So classes had lasting impact, and our students did share their knowledge, but work in "the death zone" remains a dangerous job.
I have been excited in more recent times to watch rigorous climbing instruction become an annual and widely sought-after event at the Khumbu Climbing Center in Phortse, conceived by the Alex Lowe Charitable Foundation and spearheaded by a team of world class mountaineers, including AHF board members Conrad Anker and Jon Krakauer. After years of hard work, the team has made enough progress that the Sherpas are starting to run it themselves.
And a last note, Sherpa climbing phenom Dawa Yangzum Sherpa took two SGT girls up to the climbing school in February and they learned the art of altitude – and loved it.
– Gordon Wiltsie
https://www.alpenimage.com