Postcard from the Field #6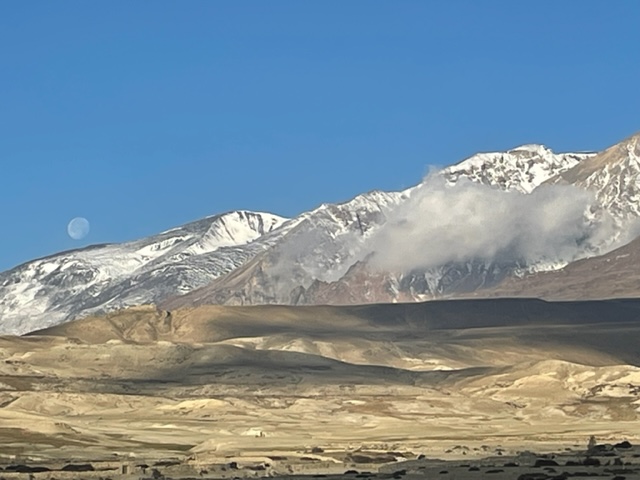 Richard Blum, our legendary Chairman, wrote a lovely memoir, An Accident of Geography. AHF was featured in the book, so his co-author, Thomas Hayes, interviewed and researched to learn about Nepal and AHF.

This spring, nine years later, Tom finally came to Nepal with the AHF team. We asked him to share his thoughts as someone who knew a lot about a country he had never set foot in. This is the sixth in a series about his adventures. - Erica Stone, President
In the Presence of Genius
Of all places we would visit, Lo Manthang most captured my imagination and stirred my anticipation once our itinerary was set weeks earlier.
In An Accident of Geography, Richard relayed stories of his first treks up the mesmerizing Kali Gandaki Gorge, the reigning raja's unexpected request to restore centuries-old temples and monasteries, and the epic restorations of those spiritual centers that have unfolded over the past three decades.
So I was excited as we stopped at the high pass at 13,000 feet altitude as late-morning winds whipped northward. Prayer flags strung above the main road, snapping in those winds, pointed to our destination in the valley below.

In this short video, you can hear the winds' striking intensity and see Lo Manthang's breathtaking panorama. Our Tibetan ponies, their bells tinkling, take a well-earned break after a three-hour ascent from Tsarang.
Standing inside Thubchen Gompa a few hours later, gazing up at deity images created in the 15th and 16th centuries, I was transported. Who were these masters? How were they able to create these massive works of art?
Our lively guide Dawa, the thangka painter now heading this temple restoration, walked with us along Thubchen's interior walls. The last work remaining was depicting stories in the Jataka, the Life Stories of the Buddha.
The next day after travels on horseback to festive day-care outposts in four northward villages, we were back in Lo Manthang with Dawa in Jampa Gompa. The intricate detail in these mandala restorations (photo, below) was stunning in clarity and variety.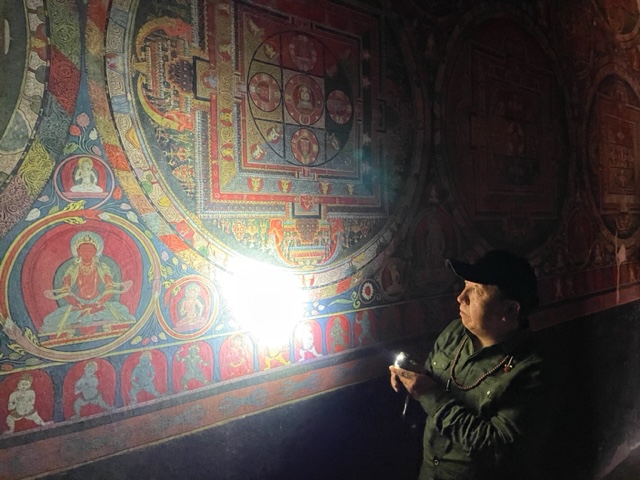 My thoughts flashed back again in awe. First to the artistic and technical brilliance of their creators. Then to the exquisite, painstaking work of more than forty villagers—trained and led by AHF's conservator extraordinaire, Luigi Fieni— who returned the creators' original genius to deities again inspiring reverence, reawakening a community.
I closed my eyes for a few moments, imagining being with them—six hundred years ago, then the first decades of the 21st century—as they worked intensely, quietly, in this same space.

*In this post on the Accident of Geography blog, Richard explained why reviving the deities to a glory worthy of worship was honoring AHF's pledge to the raja "to nurture a spiritual and community reawakening." (See, https://www.accidentofgeography.com/preservation-of-our-identity/)

-Tom Hayes