Educating disabled children and orphans
The new sacred flame
Most Nepali families have neither the information nor the resources to care for a special needs child. They are sometimes seen as being cursed, leading to a life of exclusion and shame. For a family already struggling to make ends meet, having a disabled child can seem like an impossible challenge. Navjyoti Center in Kathmandu is a day school for children with developmental disabilities that brings dignity and understanding to 80 kids' otherwise very difficult lives.
An AHF partner since 2001, Navjyoti ("new sacred flame") bridges the gap for disabled kids, giving them a safe and nurturing place to be themselves and learn life skills. The curriculum is tailored to each student's needs and abilities. Some play games and do yoga, while others go to speech therapy or practice reading, writing, and math. For the most able, Navjyoti offers classes in vocational skills like bicycle repair or making candles, giving students a way to contribute to their families and boost their self-confidence. All of this is done with an eye towards making sure the kids are loved, integrated as much as possible into society and, of course—having fun! Art, music, and dance are all part of the lesson plan. The center is a place of hope and joy, and is an inspiration to all of us at AHF.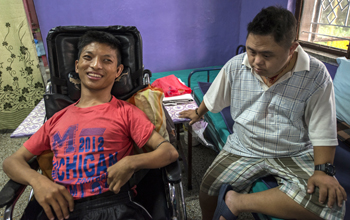 A very happy Tibetan family
We have partnered with Ngoenga School since 2000, when His Holiness the Dalai Lama founded this residential school for children with physical or mental disabilities in the Tibetan exile community. For struggling families from refugee settlements in India, Nepal, and Bhutan, Ngoenga is a godsend—their children are given a safe home, nutritious meals, education, medical care, and physical therapy, all at no cost.
At the school and hostel in Dehradun, India, they learn social and life skills, and participate in art, music, and dance classes, all in a caring environment. No wonder His Holiness named the school Ngoenga, which translates to "very happy" in Tibetan.
A sanctuary for orphans and destitute children
AHF helped Child Haven open and operate a home in 1992 for orphaned and abandoned children. The cluster of buildings near Boudha is both loving home and place of learning for over 80 displaced children, and other poor children from the neighborhood join their Green Tara School as day scholars. Child Haven is guided by a few key principles: simple living standards, nonviolence, respect for all religions and castes, and quality education.
Since the home's opening, we've helped them grow and build a bigger residence, the Meriama House, and another expansion to the school to accommodate students up to grade 10.