Namche Dental Clinic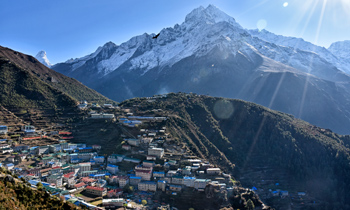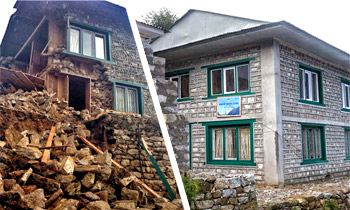 At 11,300 feet, Namche Dental is the world's highest dental clinic. And it's the only dental care facility in the Khumbu, treating about 1,300 people a year from Namche Bazaar to as far as Gokyo—a three day walk—serving locals with cleanings, fillings, and extractions for a minimal fee. Foreign visitors with toothaches are also welcomed, and that's a good thing—it's a looong hike to the nearest city.
AHF helped to build the clinic in 1991 to address the growing problem of tooth decay for Sherpas, especially for the children, along the Everest trail (adorable kids + trekkers with sweet treats = dental dilemma). One of the first Sherpanis to go to high school, Nawang Doka Sherpa earned her degree in dental therapy in Saskatchewan, Canada before returning to her hometown to establish the clinic in Namche Bazaar. AHF has helped support Namche Dental ever since.
Between patient visits, Nawang runs a program to educate local children about preventive dental care. The kids learn about the importance of a healthy diet and the dangers to teeth from sweets and tobacco. And they have something to smile about: in the 25 years since the clinic's founding, the staff have seen a noticeable decline in tooth decay among children.