Postcard from the Field #7
Richard Blum, our legendary Chairman, wrote a lovely memoir, An Accident of Geography. AHF was featured in the book, so his co-author, Thomas Hayes, interviewed and researched to learn about Nepal and AHF.

This spring, nine years later, Tom finally came to Nepal with the AHF team. We asked him to share his thoughts as someone who knew a lot about a country he had never set foot in. This is the seventh and final installment in a series about his adventures. - Erica Stone, President
Above Kali Gandaki
Centuries ago, the Kali Gandaki Gorge was a main trade route for carrying goods between Tibet and India, on yaks or Tibetan ponies, a stunningly beautiful passage through the world's highest mountain range.

Annapurna (top photo) and Dhaulagiri rise majestically above 26,000 feet on opposite sides of the gorge, born from the massive tectonic forces that created the Himalaya hundreds of millions of years ago.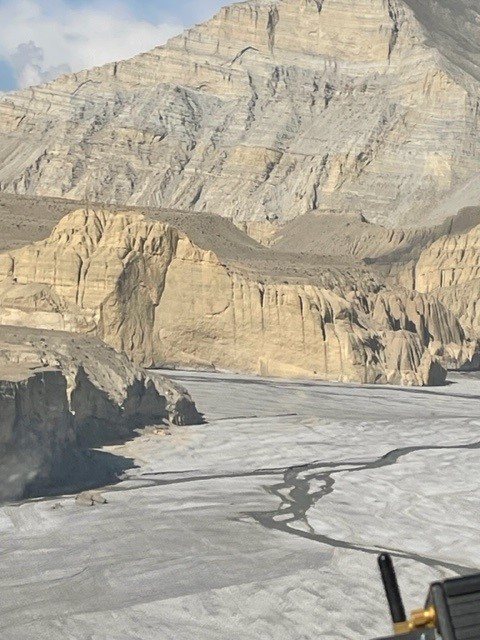 On the morning of our last day in Lo Manthang, we were lucky. Moments before storms and high winds shut down flights, we hitched a heli ride out to Kathmandu.

Then, doubly lucky. Less than five minutes after lifting off, our pilot diverted from his usual route, treating us to a spectacular flight directly above the riverbed, angling gracefully, tracking the narrow stream tucked between jagged cliffs rising on either side.

"It's fun to fly low," he said casually, offering more than a hint of contentment about this circumstance.
Crosswinds that can send choppers flailing near the Kali Gandaki were unusually quiet. We could see snow-covered peaks miles away, and little villages marked by small green farming parcels below.

My mobile phone battery was low at liftoff, but I had a feeling this last look at Mustang would be special. It proved more than that. Dazzling. Heart-thumping. Fun!

See for yourself in these two video clips of the high desert terrain of Lo Manthang then the majestic vistas in and above the gorge.
In 1968, when he was thirty-three, Richard made his first trek north along the Kali Gandaki. A Nepal military checkpoint prevented foreigners from going into Mustang where CIA-trained Tibetan fighters were skirmishing against Chinese forces near the border with Tibet. "Of course," Richard says in his book, "I wanted in."

In 1991, ambition realized. Trekking up the Kali Gandaki again, he was one of the first Westerners allowed into Upper Mustang. This quickly became a new focus for AHF's work.

This is my last postcard, for now. I am truly grateful to have learned directly what Richard wrote at the end of his AOG chapter on Mustang.

"The Mustang stories carry two simple lessons. The first is that effective development requires walking the villages, respecting local culture, and helping provide basic resources people need to improve their lives.'

"The second is that these actions offer the potential for wondrous human connections, connections that can touch your soul."

Thanks to Erica and Norbu for inviting me. Thank you for reading, and special thanks to all who checked out Richard's blog posts on the AOG website at www.accidentofgeography.com/blog.

-Tom Hayes
Missed the previous postcards?
Check out the links below to read through the past six installments: