Need a good cappuccino in Namche?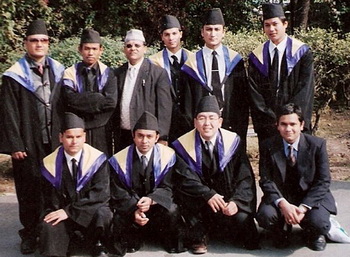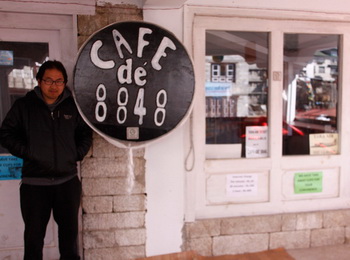 Nyima Tshering Sherpa can help you. Just step up to the bar at his Café 8848. Like something to read while you sip? No worries, he has a good selection in the Everest Book Store nearby.
Nyima is a former AHF Osher scholar who has returned to the mountains.
Nyima's father didn't get to go to school; he worked as a kitchen staff for Everest treks. But he very much wanted an education for his children, and with a help of some trekkers, managed to send Nyima to Namgyal High, the public Tibetan school in Kathmandu. After high school, Nyima was able to go on to college with an AHF scholarship set up (by the lovely Mr. Osher) to help impecunious Namgyal graduates fulfill their dreams.
His was a degree in Tourism and Hotel Management from Pokhara University. After graduating, he spent a year at Dwarikas Hotel in Kathmandu and four months at Ashcroft Pinecreek Cook house in Aspen. With this experience, he opened Café 8848 in Namche Bazaar serving Illy coffee to trekkers, and the bookstore. In between, after two years of training, he is also an assistant instructor at the Khumbu Climbing Club.
Barista, bookstore owner, climber – not a decaf life. And he has a compassionate streak. For the help he received for college he wants to give the same opportunity to another child in need - so he supports a boy from a village in the Khumbu to go to school in Namche.
Nyima shares a few of his thoughts. "I feel glad to know AHF's Norbu Tenzing who gave me moral support and idea from time to time. Also AHF has been doing lot of help to Himalayan people and in their children's education. Thanks to AHF on behalf of me and whole Himalayan people".