At the foot of Everest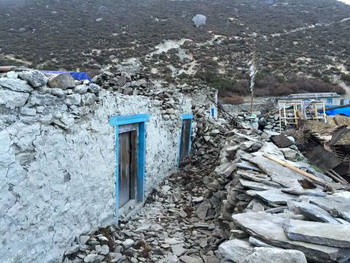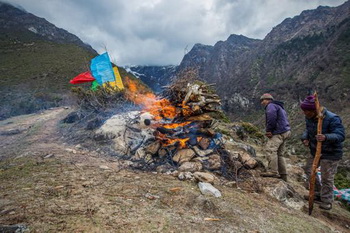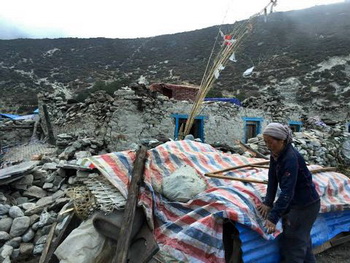 I have just returned home from Nepal and still shocked by all the damage, destruction and loss of life there from the earthquake.
We were at Gorak Shep, just two miles south of Everest Basecamp when the earthquake struck and it felt as if the whole Himalaya was being shaken and in danger of coming apart. When we rushed outside the little teashop at 17,100 feet, we heard the roar of the avalanches pouring off the mountains above us and soon afterward were hit by the avalanche-wind-blast, a great billowing wall of wind and snow that hit us at what felt like 100 mph. I was sure that this catastrophic event did not bode well for the climbers at EBC and we feared greatly for their safety.
On descending down valley, we have witnessed the extensive damage of the earthquake with broken buildings, schools, monasteries (Tengboche Monastery is badly damaged), hospitals and other infrastructure. Down in Kathmandu the great shrines of Kathmandu valley are rubble and the appalling death toll is now over 7,000 people, and yet the people of Nepal retain their resilient and irrepressible shine despite it all. But they are going to need help.
What is needed now is support for the Nepalese people to provide shelter as the monsoon is about to start and help with the reconstruction of infrastructure and livelihoods over the years ahead.
Peter Hillary