15,000 pounds of relief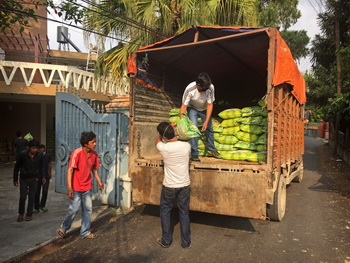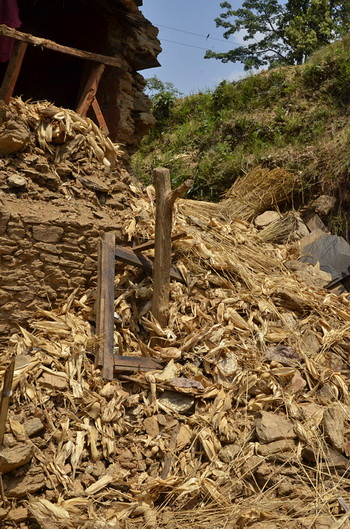 On Sunday I had hoped to make it to Kahule, Nuwakot, where 580 members of the United Women's Savings and Loan Organization (UWSLO) were desperately waiting for supplies of food. We telephoned Maya Devi, who runs the women's cooperative, two days after the earthquake to see how they were. She told us over 100 of the 700 members of UWSLO had perished and not one house was safe to live in. They were sheltering under the plastic sheeting we had provided them—it was meant to cover bamboo 'greenhouses' for their tomato plants—and had lost most of their food. The road to Kahule was blocked by landslides and no rescue teams could reach them. Their dead livestock was rotting around them and they were concerned about health risks.
It took another week for the road to open, and a few days later some limited supplies, shelter and blankets had reached them. But they were still desperately short of food. They asked us for one month's supply of rice and lentils, to which we added cooking oil. With some difficulty we purchased everything—warehouses are emptying fast, but with the help of our network we managed to find everything, including a bus driver and a somewhat beaten-up but drivable bus for hire.
On a good day, with four-wheel drive, it takes a couple of hours to reach the Nuwakot central town of Trisuli, and from there another 90 minutes to Kahule. The bus got a flat tire halfway between Kathmandu and Trisuli, which delayed us for more than an hour. After speaking to Maya Devi's husband, Dil, and learning that the road to Kahule was again damaged by recent heavy rains, we knew we would be unable to reach the village.
However, Dil was able to find a truck in Trisuli that could make the journey to Kahule. Food convoys had been mobbed elsewhere, so we met and drove both vehicles to a secluded spot in the forest, where we transferred the 15,000 pounds of food.
Dil was very, very grateful. I spoke to Maya by phone and she too was euphoric that we had managed. The truck driver—also from Kahule—asked me why we had chosen Kahule, of all the areas in need, to help. Before I could say anything, Dil jumped in. "We have been friends for more than ten years," he told the driver, "and good friends don't let each other down. And we will be friends for another ten years and ten years after that!" I told the driver that I agreed with Dil!