4.5 Million Meals Delivered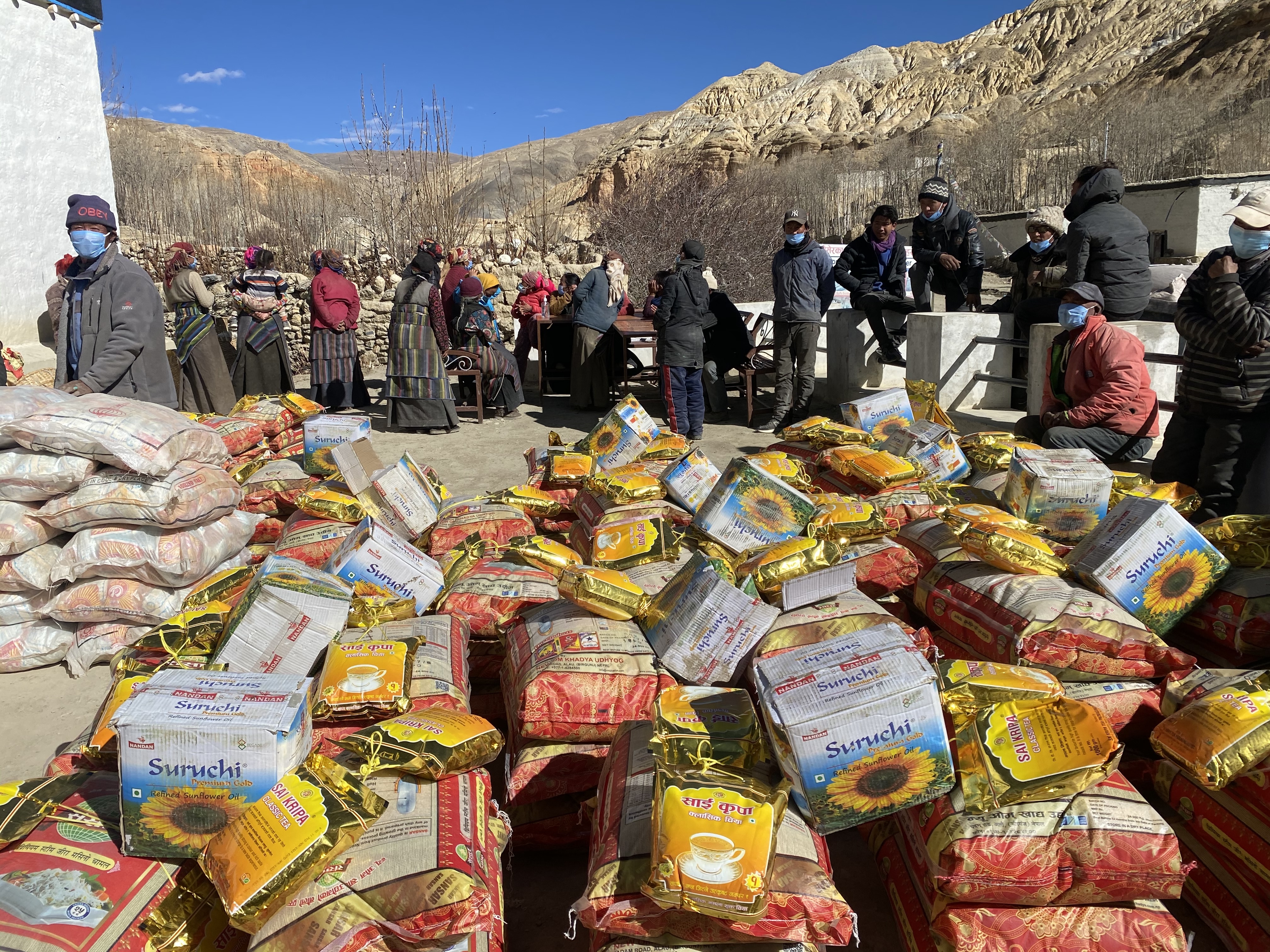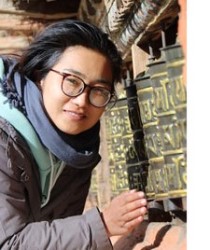 Early in the pandemic, feeding people became a priority for AHF, and it has remained one. In mid-December, just before the river froze, AHF rolled trucks filled with three months of emergency food relief up the Kali Gandaki gorge headed for the 4,500 local Loba people having to spend the harsh winter in Upper Mustang — some for the first time. Yangchen Dolkar, the brilliant new Project Manager of LGJF, our partner in Upper Mustang, coor-dinated the distribution and went up with the trucks. She said that people in the most remote villages had not heard that food was coming and, when they saw the trucks being unloaded, they began to cry with... well, relief. This is from her:
Bringing it all back home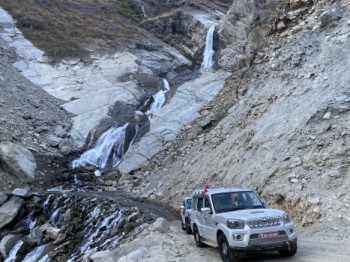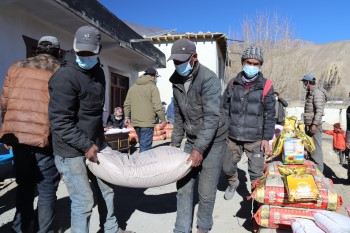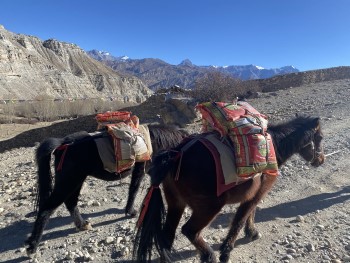 Walking through the cold winter winds, I began to realize how harsh and difficult life is in Mustang. This was the first time I was in Mustang in the winter, I had only seen it during the nice summer months. People looked wearier, maybe it was because of the sand and dust on their skin or the burden of the pandemic or both.
We began our distribution from Lo Manthang, the former capital of Mustang and my hometown. As people gathered around the gates of the walled city for the distribution program, I could see smiles but also some level of anxiousness. Some were worried this relief was only for a few fam-ilies, but much to their delight, they soon realized it was for all the families. A woman said, "this is great, no one's left behind, not a soul is hurt".
As we distributed from village to village, a few common things I noticed were grandmothers and grandfathers whispering blessings to us, folded hands, teary eyes, and smiles. All signs of gratitude. Their words still ring in my ears, "Sangay Buddha will look after you because you have looked after us, the poor, in our hardest times".
The distribution ran smoothly and quickly because of the help from the youth clubs in each village. We were hosted by the mothers' group and youth clubs in their community halls, mostly built with the help of AHF, and it was such a great feeling to hear how much this relief meant to them and their families. A woman who was in her early thirties and single, just like me (!), broke down to tears when she received the relief. She had been going to India to sell sweaters each year, and that was the only source of income for her and her mother. She had a stock of unsold sweaters and was deep in debt. She cried because she was feeling hopeless, but also because she felt like someone heard her worries, that someone came to help. Those were tears of both sadness and relief.
Every time I asked the people "Is this (ration) enough?" I only heard laughter back. I was being serious in my question, but they thought it was an outrageous question. An elderly told me, "Of course this is enough, how much can an old man eat?" and then he laughed loudly again.
The best thing that happened to me this year was when I heard blessings given by old and young. The relief and happiness I saw on worried mothers' and fathers' faces was the most beautiful thing to witness. I can't express how grateful the people and I am to the AHF family. You have given water to the thirsty and food to the hungry. You have brought warmth to the people of Lo during the cold winter months. From the people of Lo, "This new year, may God look upon you like you have looked upon the needy".
— Yangchen Dolkar

Our teams distribute masks and hand sanitizer to keep everyone safe. Here, a teaching moment.
In a normal year, well over a million tourists visit Nepal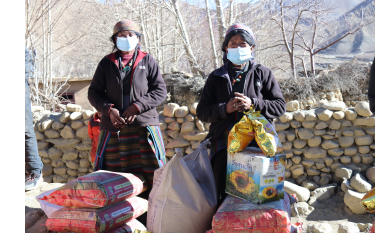 The first pandemic lockdown started last March, and from then until the end of 2020 the country saw fewer than 15,000 visitors. No tourism meant jobs disappeared and, after a year without any income, many families have no way to put food on the table.
Thanks to you, we were able to get enough food relief to struggling STOP Girl Trafficking families, Sherpas in the Khumbu, Lobas in Upper Mustang, and vulnerable Himalayan communities to get them through the winter and into spring.
Working with our great partners and longstanding local networks, we wrangled the logistics of procurement and delivery of relief on trucks, on yaks, ponies or by hand — whatever it took to get food where it was most needed. In some places, that was literally everyone; in others, we could target those whose circumstances had pushed them to the edge. Not easy or simple, but worth it to keep so many marginalized people from hunger and desperation.
4.5 million meals later, with your help, SGT girls, Sherpas, Lobas, and refugees who had no one else now have enough hope to keep going. We are not done — the pandemic is not done with us yet — but we are committed to sustaining these vulnerable communities so they can survive. Please, stay with us. Your kindness is so cherished. It keeps people from harm and despair until they can regain their footing and rebuild their lives.

Thank you again,
Erica Stone, President