No oxygen, no problem. No food, big problem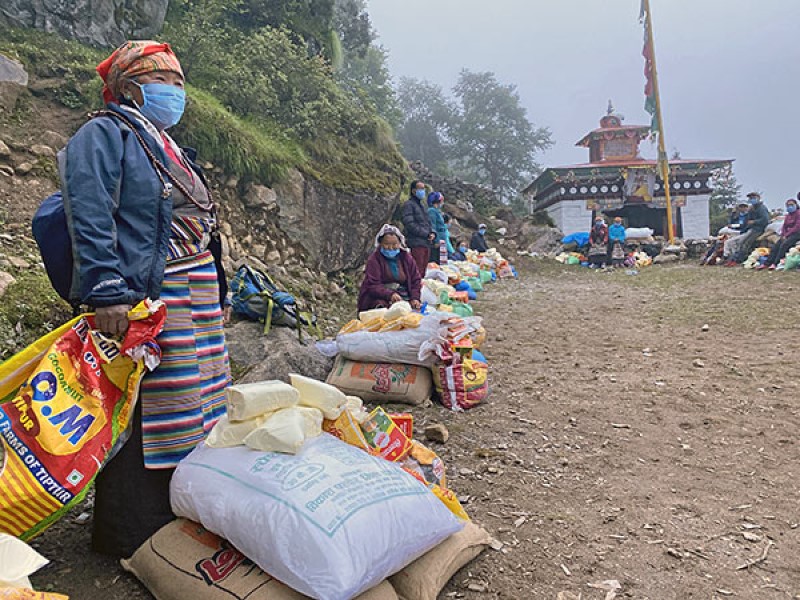 Thank you so much for being part of the AHF Covid Response.
You are our hero! We wanted you to see how much your support has helped people in need survive in the pandemic. So, as pictures and stories come in, we will share them with you. This time, the Sherpas of Thame Valley.
---
Spring is a busy time in the Khumbu as the Sherpas get ready for the Everest climbing season. But not this year. The bustle as they prepare to leave their families for three months of dangerous work on the mountain is gone, replaced by a quiet worry for the future. These are hardworking people, but the government closing this climbing season because of Covid has erased their livelihoods, and the prospect of hunger is very real.
But, thanks to you, AHF has been able to respond swiftly and provide five months of food, much to the relief of the 991 Sherpas in 260 households in 19 villages and hamlets in the high and rugged Thame Valley. How did we get it done?
With 422 mules: donated to carry supplies up the trail.

With some intense logistics: six food distributions were done, all in the centrally located hamlet of Thamo. The Sherpas, one from each household, were asked to come over several days for safety. Everyone was given a mask and hand sanitizer and had their temperature checked, and they carried the bags of food home.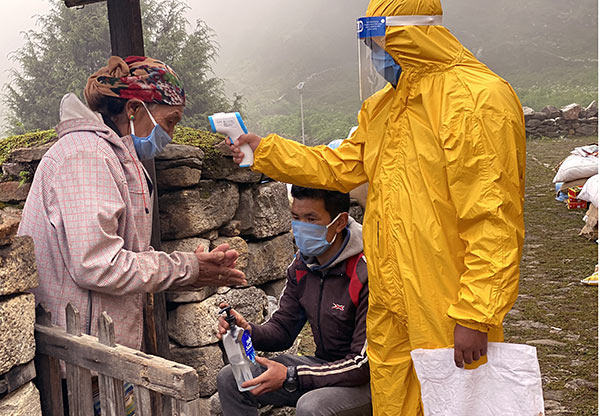 With a great new partner: our on-the-ground team was Yambu Thamichho Kydug, the local Thame social organization. Their chairman, Mingma Sherpa, and three other members did an amazing job organizing the purchase and equitable distribution of the five months of food aid. Mingma lost his father and uncle in the 2014 Everest avalanche, so he understands hardship, and he foresaw the community need as soon as the pandemic began.

Thank you again. We are all very grateful for your kindness,
Norbu Tenzing
All photos courtesy of Mingma Sherpa of Yambu Thamichho Kydug.