Happy Mother's Day! Gratitude to all of you!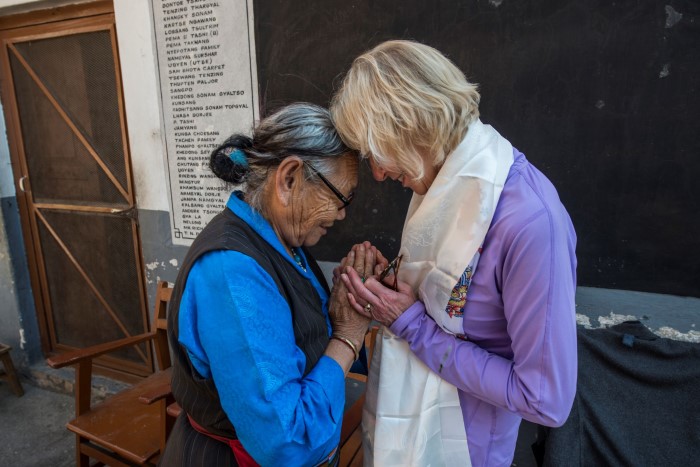 This Mother's Day, we are thinking about all the mothers, grandmothers, and other maternal figures in our lives – whether related or not.
In Tibetan-speaking communities, everyone is considered family. Friends around your age are cousins, neighbors older than you are auntie or uncle, and the next older generation are your grandpas and grandmas. Today, we want to celebrate some of our sweet 'grandmas' or momo-las from one of the elder homes we support.
These women have led the difficult lives of refugees and were left with no one to care for them. But, thanks to a women-led volunteer group, they have a place to lay their heads, sip tea with friends, and spin their prayer wheels. Many of the momo-las have lived there for decades, and they truly feel like family to us.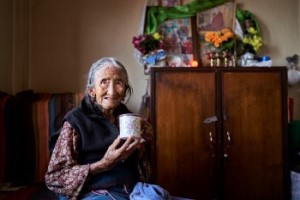 Momo Tsering Namdol (89) first came to the elder home 20 years ago, after her husband passed away. Her only son was already married and struggling to take care of his family. He wasn't able to give his mother the care and support she needed, so he asked the women's group if they would help.
Momo Namdol la's son and his family visit her at the elder home often, to help her organize her things, drop off anything she might need, and just spend some time together. She is very happy when she gets to see her beloved grandchildren. On days when they don't visit, she makes offerings at her small altar, prays for the well-being of all sentient beings, and visits local monasteries.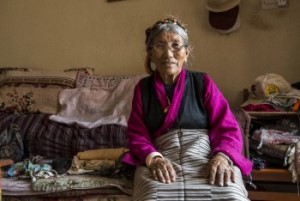 Momo Sangay Choezom (78) has lived at the elder home for 25 years – since it was first established. When she fled Tibet, she lost contact with all of her relatives there and has no one to look after her. She has lived most of the good years of her life at the home with her best friend and roommate, Kunsang Dolma (also a lovely momo-la). Every morning she offers "seven water bowls" as per Buddhist practice. Before the pandemic she would then go for kora, walking around the nearby temple with some of her friends from the home. But, for now, they spin the prayer wheels in the courtyard and chant prayers there. She said it soothes her soul.
Momo Tashi Dolma (70) was born at 11,500' in Manang. She used to farm her small field there and grow potatoes, millet and barley, which barely fed her and her husband. But when her husband passed away a few years ago, she could not continue alone. She had nowhere to go and her only son is a monk far away. The women's group welcomed her to the home in 2017. She is very happy to have a new home and a family.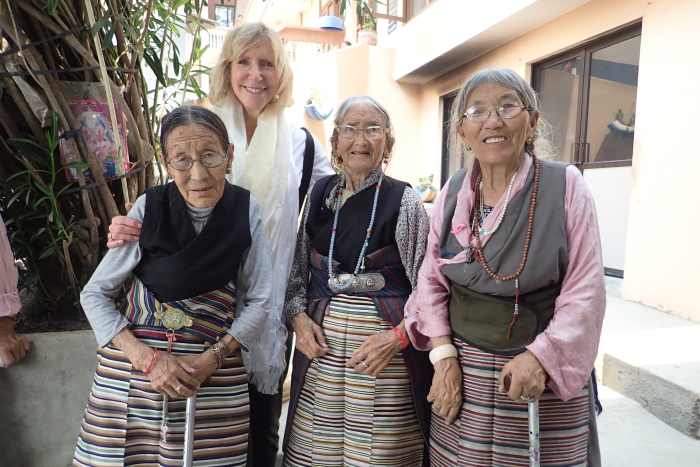 Momo Tashi la has made many new friends there and spends her days chanting prayers and taking walks. She says, "I am grateful to the welfare group and the staff of this place for giving me a home to live in and family to share. And I have huge respect for AHF for caring about old people so far away."
Like many people around the world, we haven't been able to visit our momo-las this past year. But the volunteer group has been taking very good care of them and sending us updates. As soon as the pandemic started, they put strict safety guidelines in place, which has helped keep the home free of covid cases to date. And, on March 14, the elders received vaccinations. We hope to be able to see them again soon.
We hope you are able to celebrate today with someone you love – even if it is a phone call or video chat – and remember all the good times you had with whoever your "mom" is.
And, of course, to all the mothers (and grandmothers, aunties, and big sisters stepping up to the role) working hard to raise up the next generation: Happy Mother's Day! We are grateful for you today and always.