Pandemic in the Himalaya continues
After months of skyrocketing cases every day since mid-April, the second wave of the Covid pandemic in Nepal and India finally seems to have crested. But it has left a widespread trail of despair and death, and case numbers are still high.
This second surge has dropped the Nepalese economy deeper into crisis. For many people in Nepal, if you can't work, you don't eat. The lockdowns, essential as they were to curb the spread of Covid, have pushed millions of people back into poverty, struggling to pay rent and put food on the table. And, with marginal vaccine availability, they are in real danger of getting sick.
AHF has funded PPE, oxygen concentrators, and setting up isolation centers to help frontline workers cope with this last surge. And we continue to supply food relief for communities most in need, from Mustang to the Khumbu to Darjeeling – 4.5 million meals so far, for 30,000 people for one to five months. This has been hugely helpful for families with no work as the economy tumbled between lockdowns and no tourists. They, and we, are grateful to everyone who was so generous.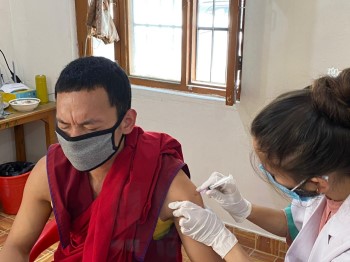 But Nepal cannot emerge from crisis until there is enough vaccine.
In India, we have been able to fund vaccines for Tibetan refugees. Modi's government has allowed 25% of vaccines to be held by private hospitals and sold on to groups who organize vaccination drives. AHF is partnering with the Tibetan Department of Health and Covid Task Force to get shots in arms in remote Tibetan settlements and scattered communities that have no big monasteries or patrons who can help underwrite the $30 cost of the two jabs – beyond the means of most Tibetans.
So, $30 can save a life. Thus far, over 1,800 people in nine settlements, both north and south, have received shots or are scheduled to. And we expect more to come.
This project is dedicated to the memory of AHF's dear friend Lodi Gyari Rinpoche, former Special Envoy of His Holiness the Dalai Lama, for his lifetime of service to the Tibetan people.
Again, our profound gratitude to everyone who is making this small miracle for Tibetans in India possible.