Keeping spirits up in Sankhu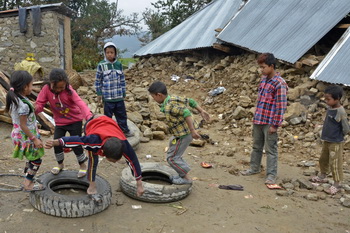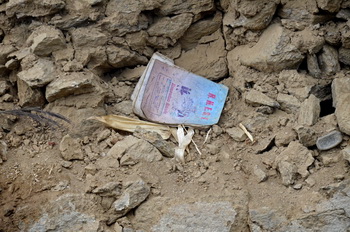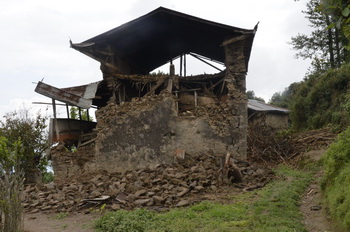 Yesterday I visited a couple of villages in the Sankhu area, about a two-hour drive west of Kathmandu, in the hills on the edge of the Kathmandu valley.
It was not as bad as I was anticipating, but still—58 deaths in this small community. Not one family was sleeping in their home, either because it had collapsed, was so damaged it is unsafe, or they are too afraid of another quake occurring. They are living in makeshift shelters, animal sheds, and a few lucky families were allowed to move into a local tourist lodge. One shelter was housing 35 people.
All have access to water and most are using sanitization liquid to make it drinkable. Food is in short supply but they have some. The police were handing out packets of biscuits and dried noodles.
There are 182 girls enrolled in our STOP Girl Trafficking (SGT) project in Sankhu. We visited the homes of about 10 of them, one Friday teacher, and one support teacher—herself an SGT alum who is collecting more data for us to prioritize next steps. Surprisingly, the girls and most of their family members appeared to be in reasonable cheer. The only tears, apart from mine, were from 16-year-old Sunita, when she told me she was unable to retrieve her schoolbooks and materials from the rubble of her home. We were able to assure her that we had more ready for her once the school re-opened.