Hari Siddi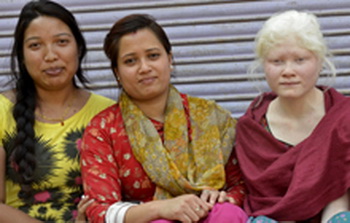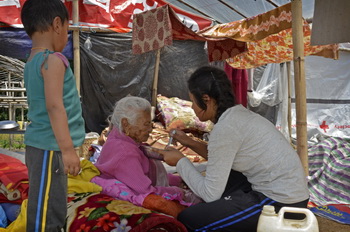 Today two Nepali AHF volunteers and I visited Hari Siddi, a neighborhood about an hour's drive southwest of Kathmandu. There we met Krishna Laxmi Maharjan, part of the STOP Girl Trafficking alumnae group and one of the project's stars. She has a bachelor's degree in architecture, is working for a small firm in Kathmandu and hopes, with the help of the entrepreneurial training she is receiving from an AHF partner, to open a firm of her own one day. For the moment those dreams are on hold.
She showed us around the village, where 20 people have died and many houses were razed by last week's earthquake, including that of SGT student, Srijana Maharjan. Srijana, her family, and about 30 others are now living under a tarpaulin near the pile of rubble that used to be their homes. Srijana has albinism, and the unsanitary living conditions have irritated her already sensitive skin. She was just returning from the village health post for treatment when we visited.
Krisha and her family are living under another plastic and tarpaulin structure with about 250 others from this tightknit Newari community – including its 106-year-old matriarch. Some of their houses were destroyed, others damaged to an extent where they are unsafe to return to. Many had walls propped up by makeshift joists, anchored to the narrow cobble stone alleyways.
They have organized a communal kitchen, appointed a camp management committee, and are managing their supplies well. For the moment they have enough food and water, but are desperate for better shelter. Unfortunately tarpaulin and tents are in very short supply.
Despite worries and hardship, they retain their typical Newari generosity and hospitality – both camps invited us to join them for a lunch of rice and lentils.