Bigu Nunnery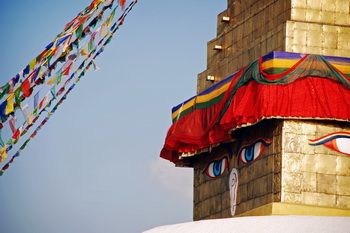 In the year of the great earthquake of Nepal in 1934, a Drukpa Lama from Bhutan, Ngawang Tenzin came to Bigu and built the Tashi Chime Gatsal Nunnery so that women could also learn, receive shelter, and find inspiration. 81 years later, another earthquake has demolished the nunnery.
I returned a missed call (we don't have voicemail in Nepal) on my cell and was relieved to hear Geshe Lobsang Ganzey-la's voice. Geshe-la is the abbot of the Tashi Chime Gatsal Nunnery—or Bigu Nunnery—which lies at 8,250 feet in the remote hills near Barabise bordering Tibet.
The region was one of the most badly affected during the quake. We met at Boudha Stupa and Geshe-la shared his story. The nunnery has 70 nuns from various neighboring communities. The community kitchen, the living room, 16 meditation retreat rooms, four classrooms, a library, a guest room and the fencing around the nunnery have all been demolished or are uninhabitable. The aftershock brought the hill behind it crumbling down along with the nunnery and homes.
Right now the priority is to bring tents, food, water, blankets and medicines and any other material so they can have shelter and food and hygiene. The roads are blocked and the helicopter is the only way there. But we are trying and hope to reach there soon.