A visit to Kavre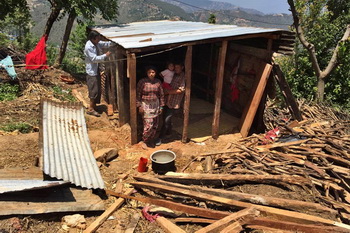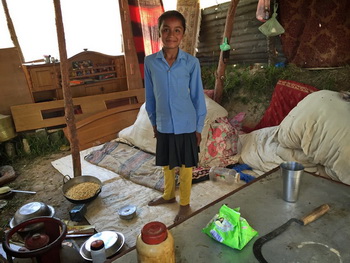 Namrata-ji and I visited Patlekhet and Pusrathunka villages today, along with some of the RHEST [our STOP Girl Trafficking partner] team. This year RHEST is working with 470 girls in the Kavre District. All of the houses of our girls and the community are cracked and not livable, and many are completely destroyed.
We met with about 10 girls from the STOP Girl Trafficking project. Indira Lama, an SGT alum, and the head of Hanuman Higher Secondary School took us around the village, and RHEST distributed beaten rice, bhujiya, water purifier, soap, rehydration salts and Cetamol tablets.
In Patalekhet, NGOs—Gumps Samaj, Caritas Nepal, Love Green Nepal, and Lions Club—have brought aid materials, but tarpaulins are in short supply. In the Pusrathunka area, there has been no help at all, 10 days after the earthquake. People are trying to get back to normalcy, building huts with what's left and using the remaining tin of the roofs. Luckily, the toilets have been spared from the damage and water is easily accessible, preventing a major sanitation problem.
Bachhal Devi Primary School has been badly damaged and will need tents to resume classes. The school principal there said his villages have been badly affected by the earthquake and he has lost his house as well.
The devastation is heartbreaking, but it is heartwarming to see the villagers helping each other, taking out their storage grains and sharing.