Class dismissed, for now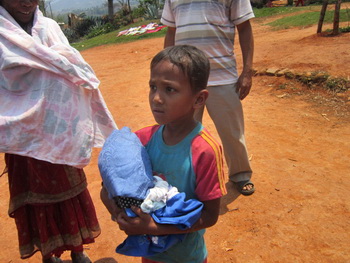 Today I visited Panchkhal in Kavre, along with some of our partners from the Rural Health and Education Service Trust (RHEST) team, to check in on the schools and distribute relief materials.
First we visited Ajad Higher Secondary School. According the principal, only 1% of the houses in the area are still livable. Most are living in makeshift tents and have not been able to retrieve any food or clothing from their homes. We distributed relief packages of rice, sugar, salt, band aids, pain relievers, soap and sanitary napkins to 86 STOP Girl Trafficking students from Ajad and two other schools. We also gave a package to the school authority for the entire community: Piyush water disinfectant drops, antiseptic liquid, band aids, Cetamol painkiller tablets, cotton rolls, adhesive tape, beaten rice and packs of rehydration salts.
Gita of RHEST briefed the community on how to use the water disinfectant—to add 3 drops of Piyush per liter of water and to let the water sit for 30 minutes before usage. They were asked to take good care of their hygiene, especially during menstruation or for those who are pregnant or lactating. The usage of toilets (those which are still intact), and washing hands with soap before cooking and eating was highlighted to prevent the outbreak of communicable diseases.
Getting tarps has been a sensitive issue. Some of the parents I talked to, like Sita Danuwar, mother of 7th grade SGT student Susmita, says she has been using a tin roof she borrowed from her Sahuji, owner of the brick kiln where she works. "A few who can voice their needs or those who are related to politicians and local leaders have received tarps, but 50% of us haven't." Sita, who lost 12 goats and some poultry in the earthquake, still forgets her current situation and asks if RHEST will continue to support her daughter with schooling materials. "My daughter's uniform is now under the rubble of my house, even her books. We hope that the school will provide us with book support, while RHEST will give her a new uniform as always."
Rama Danuwar was embarrassed that her granddaughter in SGT was wearing 'outdress' to school, even though the school is closed and it was only to receive her relief package. "She couldn't even wear her uniform to school today. It's impossible for us to get the uniform from our house now," Rama lamented. "We were lucky it was a Saturday when the earthquake struck because we were out in the field working and all my grandchildren were busy with chores such as cutting grass and washing clothes. Or else only a few of us would be here today."
After evaluation from a local engineer, Ajad's classrooms were considered safe enough to resume studies, however the staff room and administration office will need some repair. Despite their situation, Rama and other SGT parents, guardians, and scholars were excited when it was announced that the school was reopening on May 17.
Our second visit was Bhuwaneswori Lower Secondary School, where we were amazed to see the building in mint condition. RHEST distributed 18 relief packages to our SGT girls in the area. As in Ajad, they too were briefed about health, hygiene, and given a community first aid kit and a pack of Piyush for the school's 274 students.