All in the family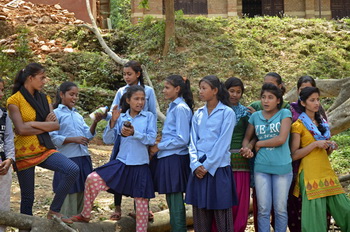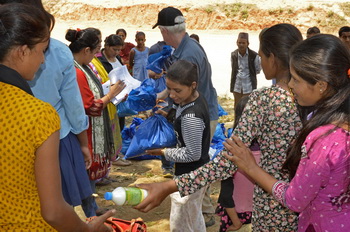 Our partner, RHEST, and AHF teams visited the Dedi Thumka School in the village of Mahadev, Kavrepalanchowk and distributed emergency rations to the families of 47 STOP Girl Trafficking girls from this and a neighboring school. Each bag contained enough rice for about five family meals, salt and sugar for homemade oral rehydration fluid, some acetaminophen tablets, band-aids, phenyl for disinfectant, and sanitary napkins.
Along with the delivery came a short lesson in hygiene, disease prevention, and nutrition, keeping in mind the girls' current living situation—they're all living outside, with no functioning toilets and limited food supplies.
Some of the girls were able to retrieve school uniforms from their damaged homes and wore them proudly. They are all looking forward to going back to school in a week.
Two classrooms were destroyed in the quake—both in an older section of the school—and there was damage to the administration block. Fortunately the newer wing was not damaged and has room enough for all.
The girls and their families were indeed very thankful for the supplies, but I sensed gratitude for more than just the blue bag. RHEST had singled these girls out before the quake, as they were among the poorest in the community and the most at risk of being trafficked. Now, after the disaster, these girls are being cared for because they are, as Namrata Sharma, RHEST Board Director reminded them, part of the RHEST and AHF family. And we look after our own!