Some happy campers in spite of it all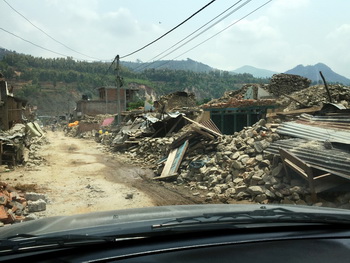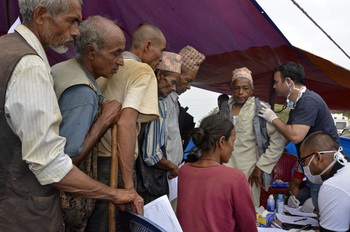 On Saturday, two weeks after the 7.8 earthquake, a couple of AHF volunteers and I drove through Sindhupalchowk to visit a field clinic being conducted by our partner HRDC in the village of Jyamire. It was not my first visit, and I had seen news of the devastation, but it was still incredibly shocking to witness firsthand.
The drive to Jyamire took us through villages that had been totally laid waste by the earthquake. Desolate. An old woman ranting to nobody in particular that she had lost everything and no one cared. Children jumping in front of the car to stop us in hope that we were part of a food convoy. An incongruous cabinet filled with sweets, cookies and instant noodles, scavenged from a collapsed shop.
On reaching Jyamire we joined the HRDC team. They had set up under a tarpaulin on top of a hill. The camp was to be held in the village school, but it too was razed. Even the hill was cracked, another disaster waiting to happen come the monsoon rains! Villagers lined up calmly, were quickly registered and seen by one of three doctors—including Dr. Bibek Banskota, head of medicine at HRDC and the son of legendary HRDC founder, Dr. Ashok Banskota.
This was the fourth camp Bibek had conducted, out of 20 planned by HRDC. He told me he expected about 60% of the 300 or so patients he would see that day to have injuries resulting directly from trauma. At the first camp it was 90%. One woman required an injection of local anesthetic into her injured knee; others had bruises and aching muscles. Most of the rest had taken ill from the living and working conditions caused by the quake—one patient had developed breathing difficulties as a result of the dust from digging through rubble to recover bodies.
Another woman had fallen and injured her arm while running from her house, but it wasn't critical enough to be of notice to the first responders. After withstanding two weeks of pain, Dr. Bibek put her arm in a sling and gave her anti-inflammatories and some pain killers. And as she was leaving she was handed a pretty new dress.
And then there were children, not really in need of medical attention, but who welcomed any attention at all. Two nurses took their details and initiated psychosocial counseling with kind, thoughtful words.
In addition to medical care, the camp also provided some food rations and distributed clothing.