April 25: The Great Escape!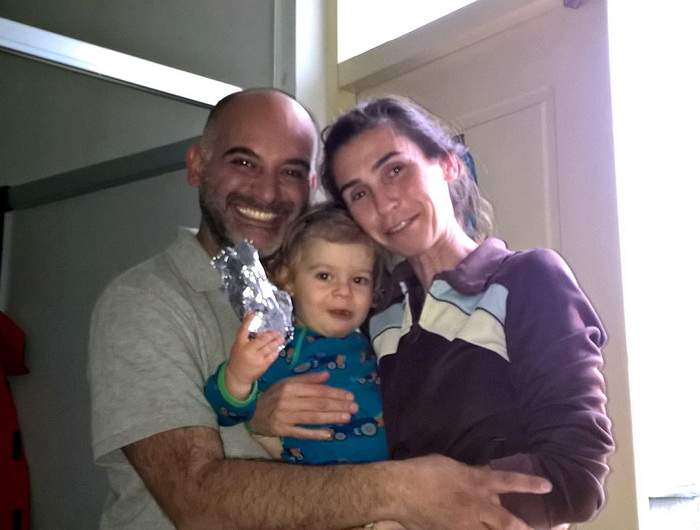 It was Saturday, our day off. Nonetheless, I was working on sketches for the reconstruction in Thupchen Gonpa while listening to music. The other painters with whom I share the house were playing cards nearby in our dining room. There was this guy, Palden, who had a tick, continuously shaking his right leg. I had scolded him more than once because I couldn't draw properly when the ground was moving.
Then the ground started shaking again. I took off my headphones, shouting at Palden to stop doing whatever he was doing. His legs were both still. I checked the other guys and nobody was moving a muscle. I looked up at our lamps and saw them moving. Then I shouted "earthquake!" and everybody ran to the stairs. In the 17 years I have worked in Mustang, there have been five earthquakes, none lasting more than 5-10 seconds or causing severe damage. So I was expecting the earthquake to have ended by the time we were all out in the street.
Unfortunately, it didn't. On the contrary, it was getting stronger and stronger, and it wouldn't stop. Suddenly my thoughts moved down to the Kathmandu valley: my wife and my 1½-year-old daughter were there. In the past, what felt like a small earthquake in Mustang would be a big one down there. The ground was still shaking, left to right, and all of us looked like surfers on a long wave. I actually thought Kathmandu would be erased by the time I took out my phone and called my wife. The network was not yet congested because the earth was still shaking and people were looking for shelter. Monika answered, panting with fear while trying to get out from our 4th floor flat with Frida. We kissed and wished good luck, and then the line dropped.
When I raised my eyes, I realized most of the Lobas were in the street with their hands tight in prayer or spinning their prayer wheels. Everybody was in panic, and the mantras could still be heard after the earthquake stopped. 90 seconds, maybe two minutes… it felt never-ending.
The prayer wheels were changed with mobile phones and everybody tried to get in contact with their families and friends, but very few were lucky enough to get through. The network was overwhelmed. A second quake came and it was even stronger than the first. All of us sat down, praying louder than before, and we could see the houses and city walls literally shaking like jellies.
This time I really thought Lo Manthang would crumble down, but the city resisted. Nobody died. But nobody knew what to do. There was no chance to get connected to the lowlands: Jomsom, Pokhara, Kathmandu. We were cut off from the world for hours before we began to have some decent phone connection.
When the earth went to sleep and I knew my family was safe, I decided to check the monasteries and the royal palace. The monasteries seemed to be fine, at least from outside, but the royal palace was severely cracked. When I asked for the keys to the monasteries, everybody was scared they could collapse and they wouldn't let me in. So I went around the city, quite disappointed, for I couldn't see if the wall paintings I devoted my life to had survived.
I then went back to my room and starting cleaning the debris and fallen plaster. When night fell, we took our sleeping bags and all the blankets we could find to our courtyard and tried to sleep. We were above 12,000 feet with temperatures nearing -10 °C. But we didn't feel cold, probably because we were slowly realizing what a catastrophe had fallen over Nepal. I managed to get a phone call with my wife and was shocked to learn how much damage there had been in Kathmandu valley. Everybody was concerned about further quakes and sleeping in tents or just outside, like us, because there were no tents available.
Aftershocks came without destroying anything but our moods. It was nearly lunch time when I decided to pack the few things I had and try to reach my family. I had no idea how the roads were or if it was possible to reach any villages south of Lo Manthang, but nothing else mattered. I reserved a jeep to go as fast as possible down to Jomsom, where I could fly out to Pokhara and then Kathmandu.
In Ghami, we were stopped by a couple of porters. At first I tried to push the driver to just keep going, but when I heard they had lost family members and were trying to reach Kathmandu, I let them join us. The road was interrupted by landslides, and we had to do some intensive slaloming to avoid rocks that had fallen from the cliffs above us. The journey stopped at Chhuksang. There had been a serious landslide and all the drivers refused to drive. No horses were available and no porters to go with me on foot.
Desperation came to visit me, and I sat on a stone, trying to think how to get to Jomsom. I didn't want to miss the flight to Pokhara the following day. The porters I had brought in the jeep pushed me to continue the journey on foot, yet I was sure we wouldn't make it to Jomsom. We walked maybe 30 minutes when we saw a big landslide on the road. We looked at each other, not a word, and kept going. We helped each other cross that dangerous section, where slates were falling off at every step over a ridge of more than 600 feet. The road became bit better and we could see the shape of a jeep up ahead. I couldn't believe it. One of the porters managed to convince the driver to take us to Jomsom. We were free to go. Only a couple of hours left before reaching Jomsom!
We arrived around 8pm, exhausted. The earthquake had hit Jomsom and some houses had collapsed. One section of the ground nearby even opened and slid down. The villagers were sleeping either outside or with the lights on and doors open in case of aftershocks. Many tourists were in a panic, trying to find a way to go back home.
That night I managed to get internet connection—unfortunately—and I saw what was left of Kathmandu, Bhaktapur and many other villages. There are no words to describe that night's feelings. Sorrow, desperation, anger, misery, grief, anguish—a minestrone of very sad emotions. The only comfort was the voice of my wife and hints of the noises of my daughter.
The following day I went to the airport, so much wanting to take off and jump into the arms of my family. One hour sitting in a crowded airport and no pilots. They had been ordered not to leave Kathmandu. The airports were incredibly busy with rescue missions and only a few main routes were left active. I met some friends and we looked for a jeep and some tourists brave enough to risk going to Pokhara by road.
We were about halfway there when my wife called me in tears—she was being evacuated with Frida and flying out in a couple of hours. I was extremely happy she could get out of the country, yet quite desperate because I wanted to hug them at least one last time before they left. Fate had chosen differently, and I just had to be happy they were going to be safe back in Europe. Yet some tears came.
I arrived in Pokhara. Well, my body did. My soul was with my family, hoping they were safe. Then I got another call from my wife. Their plane wasn't allowed to land. Maybe the next day. One more sleepless night and I woke up with the news that Monika and Frida were flying out in the afternoon. Maybe I still had time to meet them. Only a 25 minute flight was separating us. I checked in at Pokhara airport. Four hours of waiting and finally our plane arrives …mamma mia! We're leaving! We did it!
It was probably the happiest queue of my life. I didn't care about all the people passing in front of me and trying to get the best seat. I was getting onto a plane: destination Kathmandu!
We saw the new city with the colors of all the tents covering any green space. We saw destruction, but we saw also hope. The airport was split in two: people trying to leave the country to safety and rescue teams arriving from many parts of the world to help Nepal.
I got into the first cab I found. I was ripped off but didn't care. They were leaving in a couple of hours, but I was nearly there. Monika and Frida had moved into tents in the garden of her office. As soon as I got out of the cab, I went to the garden and started shouting the names of the most important women in my life. Then a glimpse through a door, the face of my daughter. I shouted, "Frida!" She looked at me, opened up in a big smile and said, "Papa."
An incredible bliss melted into an unbearable sorrow at the thought of all those families who didn't have our same luck. Read the rest of Luigi's journey.