The Great Escape, pt. 2: Return to Lo Manthang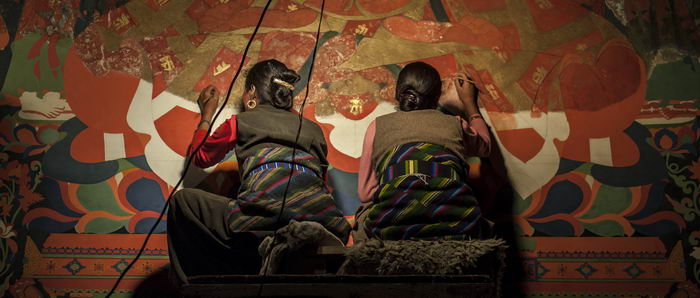 It took me one more week to be finally rejoined with my family in Germany. Indescribable, the feeling of being woken up again every morning by my daughter, Frida, jumping on me or slapping my face with her tiny hands. My remorse at having left Nepal when it needed help the most was still hanging over me, and we were worried for our friends there, but I needed to have my family in a safer place. Our plans were constantly changing, adding a bittersweet mood to daily life.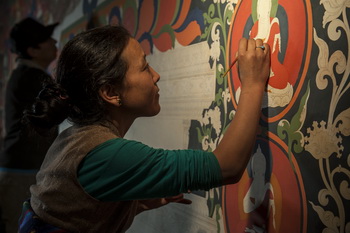 It was sad to think that some of this work had been finished 15 years ago, and now we were kind of back to the start of this project.
We moved to Italy to spend some time with my family, until my wife Monika was called back to Nepal to work while I stayed with Frida and waited for my time to go back to the Himalaya. Life in Europe was a beautiful window to watch from, though deep in my heart I knew Nepal was having a hard time. I was annoyed and saddened by the fact that the media had quickly forgotten and moved on with the news: the most recent love affairs of the UK royal family, the problems of the next World Cup in Qatar, and so on—while on the other side of the world, Nepalis were still in desperate need of help!!!
I called my friends in Mustang quite often to get updates on the damages to the monasteries I had devoted my life to, and to give them tips and guidelines. Each time, they would tell me everything was under control, but I was skeptical because I knew they didn't want to have me more worried. I hadn't checked the condition of the monasteries for myself before I left, because the Lobas hadn't allowed me in, fearing that the buildings would collapse.
I finally flew back to Nepal at the end of June, Frida safe with her grandparents. I was split in two, extremely sad to have departed from my daughter, very happy to have gone back to do my share of help.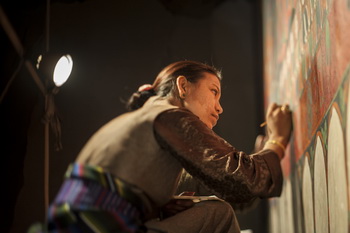 My arrival at the airport was a shock. Usually flocks of tourists would line up at the VISA section for hours to get their luggage back; that day it took me a couple of minutes to pass through customs and get my bags. There was literally not a single tourist there. The few foreigners I met were living or working in Nepal. Then I recalled one of the rare news reports on TV, with embassies all over the world discouraging their citizens to go to Nepal. A country crushed by a series of disastrous earthquakes and dependent on tourism was on its knees. You could feel it clearly in Thamel, the tourist quarter: the few who dared to come to Nepal despite the embassies' warnings were assaulted by shop owners and restaurant waiters, each trying to earn the least to survive.
I managed to spend less than a week with my wife in Kathmandu before she flew back to our daughter in Europe. Our flat near Bhaktapur had suffered from several cracks, but was still in decent condition. However, since it was on the 4th floor and aftershocks were still common, we didn't feel safe and moved into Bruce's [AHF's Regional Director] house. I can't thank him enough for what he has done for us, and what he's still doing. Even while in Europe, I had heard how incredibly active and helpful he was, bringing relief to villages and supporting any way he could. I would have given so much to be there with him in those past months.
Then the day to fly to Pokhara arrived. Most of my bags were filled with materials we needed for our restoration work in Mustang, and I spent over half an hour trying to convince the airport security officer that the two kilos of cinnabar (a red, natural mineral pigment) was not a bomb. The officer kept scanning the cinnabar, showing me on the x-ray machine that it was all black and it had to be a bomb. I had to open the very well-packed stone and scratch it several times, trying to politely explain why the stone was black and how it becomes a color once ground. My little Nepali helped, and finally I managed to save this precious stone for our project.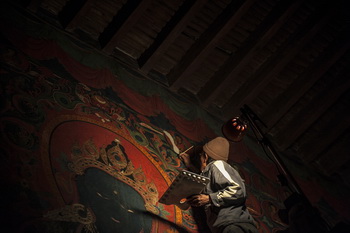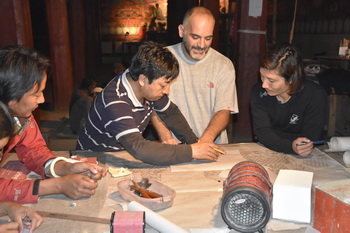 We had to wait nearly a month until our high scaffold was ready, to check the higher sections of the wall paintings. Until then, I thought Thupchen had resisted the earthquake quite well.
Despite monsoon delays, I got into Pokhara the same day. I was there with Suresh, a Nepalese engineer who was following me to Lo Manthang to assess the monasteries. Unfortunately, our next flight to Jomsom was cancelled due to bad weather. We were retrieving our bags when I met a Loba who works at the Pokhara airport. We chatted a bit and I told him we had to reach Jomsom as soon as possible, for I didn't want to lose any time from Lo Manthang. You can't imagine how wide was my smile when he told me that a friend of his was leaving in few minutes for Jomsom and had space in his huge Jeep for us.
Almost a day of bumpy driving and we got to Jomsom, happy to see friends and to have left the heat of the lowlands. The road to Lo Manthang had been cleared up and reachable by Jeep, though we needed to change vehicles three times and do the usual dangerous parts on foot. The ride was a kind of endless journey, and I couldn't stop my mind from the anguish I felt just a couple of months before while trying to reach my family in Kathmandu. However, every sad thought vanished the moment we crossed the last pass into Lo Manthang. As soon as my eyes bumped into the valley, happiness ran through my veins. I was back home!
It was simply wonderful to see everyone again. My room had to be partly demolished due to earthquake damage, but my housemates, lovely Lobas working on the restoration of the Thupchen wall paintings, had prepared and cleaned a spare room for me.
We had a small party that night, everybody happy to be together again and recounting what had happened in my absence. I found out that the royal palace had been seriously damaged on its northern side.
I confess, the first thing I looked at when I entered the monastery the next day were the new wall paintings the guys had painted while I wasn't there. I was amazed to see their progress. Simply incredible, and I felt so proud. Then they started showing me the new cracks on paintings, and all the areas where they had injected mortar to glue back paint layers that had separated from the wall.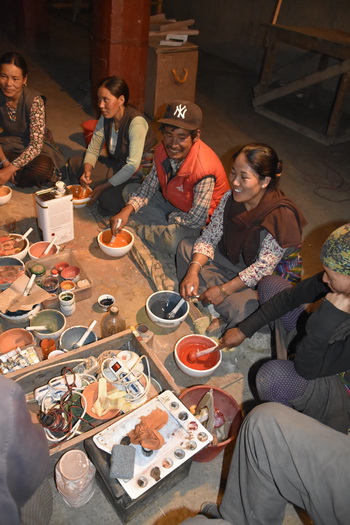 We had to wait nearly a month until our high scaffold was ready, to check the higher sections of the wall paintings. Until then, I thought Thupchen had resisted the earthquake quite well. We couldn't see the extent of the damage until we climbed up those scaffolds and realized that wide portions of the wall paintings had detached from the wall, especially around the architraves and the joints with the ceiling. It was sad to think that some of this work had been finished 15 years ago, and now we were kind of back to the start of this project.
The visit to Jampa Lhakhang was even more disheartening. Some sections of the wall paintings had fallen, others were detached, and it looked like the drainage system outside the temple had been damaged, causing serious water infiltration problems. And on the top story, all of the walls have completely separated from the floor.
It's very sad that we'll have to start over again on work we had completed decades ago. But the spirit of the team, willing to continue and keep their monasteries alive for their people, is definitely the best medicine.