More temporary learning centers = more TLC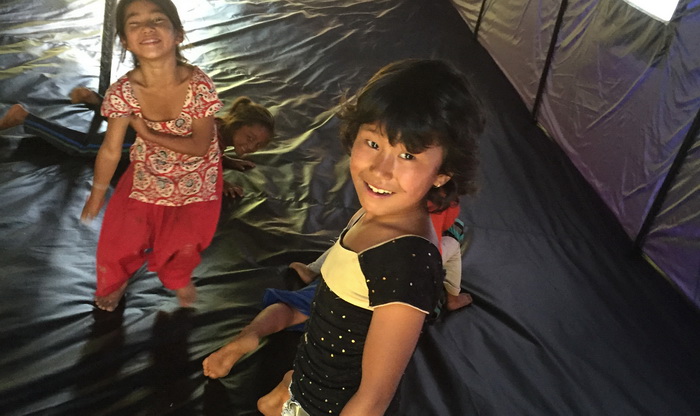 Chautara is a small town of 6,000 people, a tough and winding three-hour drive from Kathmandu. It is perched high on a mountain pass in the hard-hit district of Sindhupalchowk, where an estimated 80% of homes have been destroyed and almost 2,000 lives were lost. It is also an area infamous for girl trafficking.
Immediately after the April 25 earthquake, stories appeared in the media about the increased risk of child trafficking. There were incidents of traffickers and girls being intercepted at Nepal's border with India. 'Time to Prey' was a headline in Nepal's premier weekly English language newspaper. AHF and our partner, RHEST, had no choice but to almost double the number of girls in our STOP Girl Trafficking (SGT) project in affected districts.
But the local government asked us to do even more, and 'adopt' the seven public schools in Chautara, all of which had been destroyed by the quake. We agreed to provide school supplies to all 1,660 students and build 40 temporary learning centers (TLCs) strong enough to hold up against the monsoons. In practice, it also means extending SGT services like coaching, community meetings, and afterschool tutors.
I visited Chautara when the schools reopened after being closed for six weeks. The children were happy to be back and reunited with friends, though their classrooms were best described as gatherings: small, hastily-built tents or desks out in the open near the rubble that had been their school.
The next week I joined a team of AHF and RHEST staff and volunteers to deliver and erect the first tent TLCs in four of Chautara's schools. Just before we left Kathmandu, a magnitude 4.4 aftershock struck—a stark reminder of why we're doing this. 17 minutes later it was followed by 5.2 tremor—fifteen times stronger.
One principal was skeptical when our SGT Executive Director, 'General' Kamala Adhikari, told him we were there with tents. But when he saw the design and quality of the material, his opinion changed. "Best of the lot" he declared, referring to some rickety bamboo and tin structures put up by others.
At one elementary school, some of young students living in nearby tin shelters rushed to help us, even though class had ended for the day. Before the tent was fully up, they were inside playing—thrilled their new 'classroom' actually had walls, a roof that didn't leak, and, well, looked pretty cool.