Mime over matter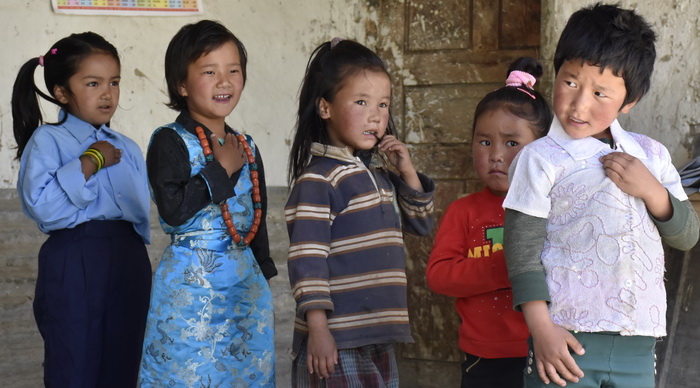 I often refer to Upper Mustang as "Nepal's Wild, Wild West", and I can certainly see many similarities between the lives Lobas lead and those of the settlers depicted by Hollywood in its westerns—except of course the Lobas didn't 'settle' there, not in the past millennium anyway. Upper Mustang is remote, hard to get to and, even with the advent of a road and the introduction of jeeps, its terrain is difficult to negotiate.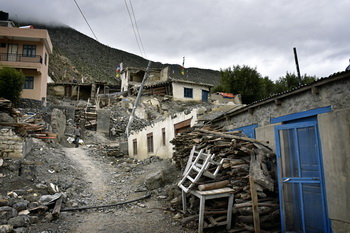 AHF's initial involvement in Upper Mustang has been to assist with the preservation of its Buddhist culture and heritage. While we are still doing that, we're also working to make ordinary life a little easier for these extraordinarily hardy people.
AHF and its local partners in Upper Mustang are providing opportunities for youth, and improving the standard of living for all Lobas, encouraging them to stay, or indeed, return. Five students from the AHF-supported school hostel for Loba students studying in Jomsom, in Lower Mustang, have all returned to their native lands to work in AHF projects: caring for children in Charang and Ghami day care centers, teaching at a school in Ghami, and working with a USAID maternal health project across Upper Mustang.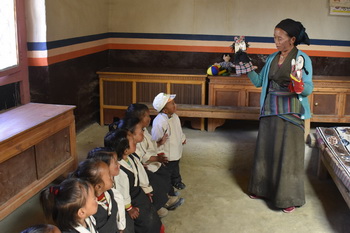 Job satisfaction is more than about just being employed, it helps to be good at it too! This year AHF supported early childhood development training for 20 of our day care centers and elementary teachers, and the impact is wonderful to witness. The staff were given ideas and tools to better engage and care for the children in their charge—and these included puppets!
Tragically, Upper Mustang was not left untouched by this year's devastating earthquake. The village of Namgyal was badly hit, and close to half of Ghilling's homes were destroyed. Some of our day care centers, schools, a health clinic and a bridge will need to be rebuilt or repaired. The gonpas of Thubchen, Champa, and Choedde were also damaged, although mercifully not badly, and AHF commissioned a structural conservation expert to assess them. We are currently looking at how best AHF can assist with Mustang's recovery efforts.
Like elsewhere in Nepal, the quake has not demoralized the Lobas. Those that can have started rebuilding their homes (most are now one story, not two!), and others have made temporary arrangements – the young monks in Charang are sleeping in their classrooms, and the Chhosar kids have moved to a community hall. Historic treasures from the palaces in Lo Manthang and Charang (both closed to visitors) were moved to safer storage. Fortunately, none of the water sources or irrigation canals were interrupted, and the fields of wheat, maize, buckwheat, and barley were all planted and will be ready for harvesting in October.
Even the earthquake couldn't stop the youth groups from holding their annual 'Mustang World Cup' inter-village soccer (and volleyball) tournament. A week of football and fun for the players and hundreds of spectators. And a fate's reward; this year's champions—Ghilling!