Girls saving girls, part 1: Samjhana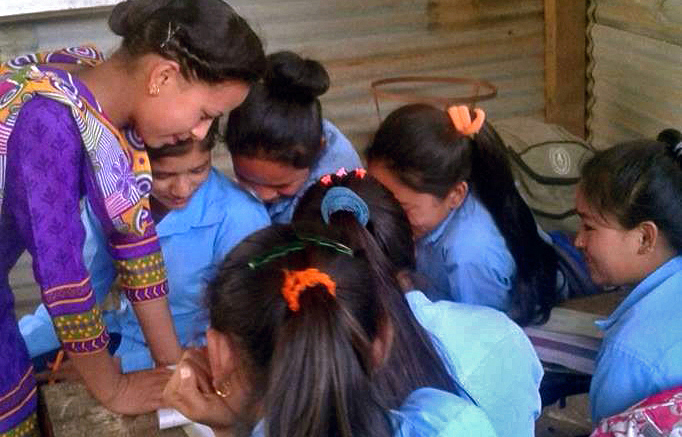 One of the most amazing results of our STOP Girl Trafficking (SGT) project is Dr. Aruna's Uprety's army of SGT graduates! Young women once at risk of being trafficked are now role models. And they're helping other girls, not only in the classroom, but empowering them to stand up to pressures that would take them out of school—because education is their best hope to change their fate. This is Samjhana's story, in her own words (translated from Nepali).
Namaste! My name is Samjhana Lamichhane from Sindhupalchowk. I am working as a support teacher at Sri Bhumeshori Higher Secondary School. My success story is as follows:
Pushpa was born in Sindhupalchowk and is the third eldest of five sisters. Her dad was an alcoholic and used to beat up all his children. Later her dad passed away in bed from overconsumption of alcohol. What Pushpa's mother earned was not enough to feed the family. That is why her eldest sister never made it to school and cannot even write her name. She was made to work at home, and at fifteen they got her married. At that time our society did not know much about child marriage; even I did not know that it was wrong and could not stop Pushpa's sister from getting married.
When Pushpa got to grade 6, school became too expensive. One of her neighbors took her to Kathmandu, promising to put her back in school. But after three months he told her he had brought her to work as a domestic helper, began beating her and stopped her from going to school. After a while, she escaped saying that she is going to visit her mother. Back home, she said that she wanted to study, but her mother told her she could not afford to send her school. Then Pushpa came to me crying and said she wanted to get educated like me. She asked me to help her to go back to school.
I later found out that SGT offers help to poor and Dalit students through grade 12 and an opportunity to go for higher studies. I applied for it and was accepted into the SGT program. After being selected, I told the teachers about Pushpa, who was in a greater need. I told them about Pushpa's situation and that she had missed school for the last three months. Then they met Pushpa and got her back in school. Now Pushpa is studying in grade 10. Pushpa says that SGT has saved her from child labor and child marriage. Pushpa is very grateful for the opportunity. Thank you.