Reviving a temple: Final pieces of the Thubchen puzzle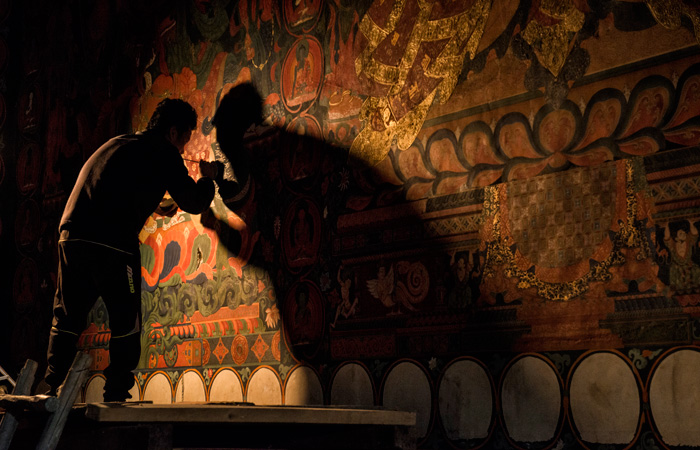 More than a year had passed since Indra and I returned from our research trip, visiting and photographing the most important fifteenth-century Sakya monasteries and temples in western Tibet, looking for clues on how to complete the wall paintings of Thupchen Gompa in Lo Manthang. We were thrilled to meet His Holiness the Sakya Trizin, because in Tibet we believed we had finally found some of the stories and small deities depicted in Thupchen.
We hoped he would confirm our results and greenlight completion of the missing sections – fulfilling the dream of Lo Manthang's community to complete the Thupchen wall paintings and begin using the monastery again as a living temple instead of a museum for tourists. We had spent the whole summer studying each and every photo taken in Tibet looking for the same deities painted in Thupchen.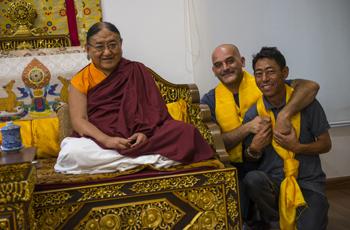 Those deities are usually divided into groups, and before continuing painting we had to be sure to complete the groups in the right way. To finish those groups with the wrong deities would have led to a dangerous religious mistake. We needed insight from His Holiness the Sakya Trizin himself.
Indra, Tsedo and I arrived at his residence in Dehradun, India, all of us a bit nervous for the upcoming meeting. We knew the future of Thupchen's new wall paintings was at stake.
There were some people before us, Tibetans who had come to pay their respect. When we were introduced in the meeting room, His Holiness greeted us with a large smile and a bit of curiosity about the foreigner, who was me. He asked where I was from and when I told him I was Italian, he added a lively "buongiorno" to the conversation, and everyone's tension melted away with laughter.
We introduced ourselves and talked about our project, showing him the last 18 years of effort on a laptop. He marveled at the results of our work, and I believe he felt as proud as we were about how the monasteries and temples of Lo were coming back to life again.
We had organized hundreds of printed photographs, the ones from Thupchen, and the ones we thought were the corresponding groups and stories we had found in Tibet.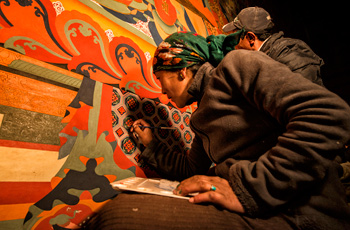 There were different groups in Gyantse, Tibet with the same deities; some were groups of 10 and others of 12 deities that we had to compare thoroughly before His Holiness approved them. The southern side of Thupchen was quite clear, to our joy, because it is where the majority of the new wall paintings were to be completed. The northern side was a bit more complicated because the colors of the deities were different, or the vehicle animal of the deity was missing, or there were less arms or heads. Luckily, during our studies we had found several deities with different attributes carrying the same name (most of the deities there have their name written in Tibetan script). This convinced His Holiness that our proposed group was a match.
There are more than 150 deities to be painted in the lower register, and we had found several groups that we proposed one by one until we had enough to complete the missing areas. At times he would tell us a proposed group would not be suitable for the monastery, at times he would give us the names of other groups to add to our selection.
Once we had enough for the remaining walls to be painted, we turned His attention to the stories. We had found one specific scene in Shalu, Tibet depicting monkeys, deer and cows, to be very similar to one present in Thupchen. After His Holiness inspected both photos for some time, he agreed with us that we had found the right stories. In Shalu we could find only two of four scenes from Thupchen. We were worried that those scenes could have been part of different stories, but to our surprise He told us that we couldn't have found the other two scenes because in Shalu several of them were damaged and illegible. So he gave us permission to paint the scenes from the stories depicted in Shalu! I still remember some of his last words echoing in my mind: "You already found everything, why did you come to me?"
It is difficult to express the happiness and bliss we were experiencing that moment we were granted the chance to finish the missing wall paintings in Thupchen. A lifetime of work that could have been stopped for lack of clues or incongruence.
On that day, we received permission to complete the new wall paintings in Thupchen and truly turn that ancient place into a monastery once again after centuries of negligence.
On that day, who could have been happier than us?