Thanks for an amazing evening to STOP Girl Trafficking!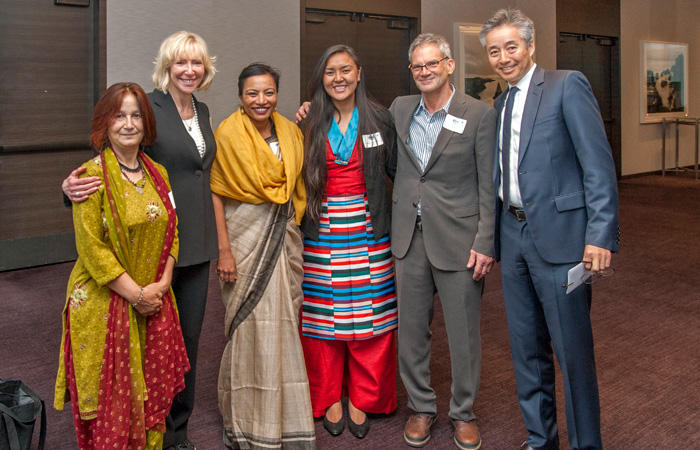 Thank you to everyone who contributed to another amazing STOP Girl Trafficking evening! Proceeds from the night will keep thousands of girls in school and safe for another year. In case you missed it, here are some highlights.
Subina Shrestha, journalist & filmmaker:
"Fifteen thousand women, trafficked from villages across Nepal, are working as sex workers in Kathmandu alone. I've always wondered about the accident of birth. Could I have been one of these girls?
Just a generation ago, in a neighbourhood in old Kathmandu, my grandmother made a bold decision. She was a widow, dirt poor, with one child, a daughter, and at one point had worked as a domestic help. But she became convinced that the only way to escape poverty and exploitation was to send her only daughter to school.
My grandmother's faith in education opened a new world for my mother, and eventually for me and my siblings. That one decision is the reason that I am standing here, in front of you, to talk about the possibilities of education, the possibilities for women to challenge the power structures of patriarchy, that keep them – keep us – as exploitable subordinates."
Pasang Lhamu Sherpa Akita, mountaineer:
"In 2008 I came to USA, and I felt so good here because I see women working everywhere, women treated equally.
And then I went back to Nepal, started a women's expedition. I got the opportunity to go to K2, which has names like 'Killer Mountain' and 'Savage Mountain.'
When I said I wanted to climb that mountain, there were so many people saying, 'Oh my god, this woman is crazy now.' If a male goes to K2 that's fine, that's great. But if you are a woman going, you are crazy. It took me five months to convince my husband. I don't think there's any man who has to convince their wife to climb.
So I continued my dream, I continued doing this. Now I'm a full-time mountain guide.
In my lifetime what really helped me is the education I have. Because of that education, I have the confidence to pursue and achieve my goals, even in a male-dominated society. Without education there is no future.
There are so many girls in Nepal who don't have a future. I think that if something can change, that it is education."