Winds of change in Ghilling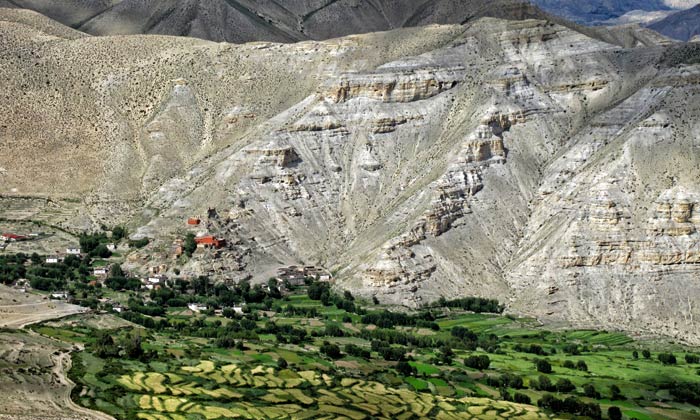 After Upper Mustang, the Kingdom of Lo, opened to the world again in 1992, AHF was invited to help them recover from years of isolation. We started, at the king's request, by restoring the ancient gompas, but since then our work has touched every aspect of life, in almost every village.
Ghilling village is a perfect example of the cultural renaissance taking root in Mustang. But this poem from Karsang Thinlay, grade 7 student at Shree Janajyoti Lower Secondary School, says it best:
Looking to the right there is a snowy mountain,
Looking to the left there is a rocky mountain.
The place which lies in the middle
Is my fatherland of good people.

Earth, water, fire, and air are clean.
The various kinds of food are delicious and nutritious.
The flowers on the grasslands are beautiful:
This is my fatherland of good people.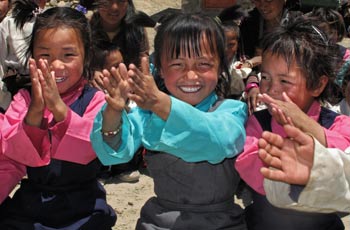 For the religion there is a temple,
For the children there is a school,
For the sick there is a hospital:
This is my fatherland of good people.

In the winter there is snow to enjoy,
In the summer there is cooling rain,
In the spring there are beautiful flowers:
This is my fatherland of good people.

The land is small, happy, and beautiful.
It is extremely pleasant and
It is impossible to ever forget it:
It is my fatherland of good people.
When we first arrived in Mustang, the younger generation was speaking mostly Nepali and the local Lobas were on the precipice of losing their culture. We began funding local language and culture teachers across Mustang, and recently we added a second teacher in Ghilling as the school population grows. The teachers supplement the kids' regular curriculum, keeping them in touch with their Buddhist heritage.
For the littlest Lobas, we support a day care in Ghilling, one of 14 across Mustang. The day cares give them a head start on their ABCs—in Nepali, English, and the local language—and provide a safe place for inquisitive toddlers while their parents work the fields.
AHF also supports a health worker at the clinic in Ghilling and helps cover the cost of essential medicines.
All of this change is under the superb guidance of our local partner, Maitri Ratna. In this way we can help the Lobas hold on to their rich culture, while they take the future into their own hands.