At home on the range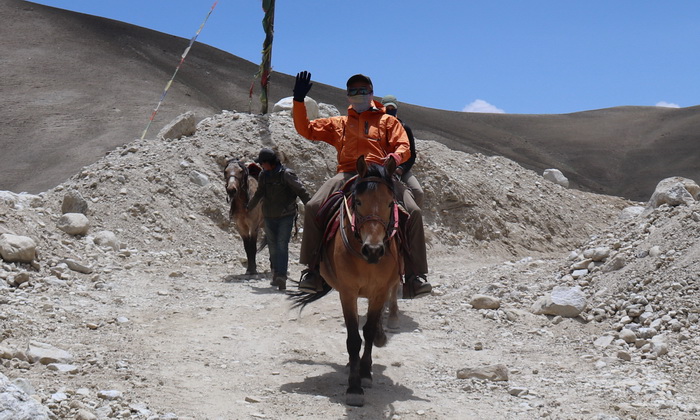 In the 24 years I've been going to Lo Manthang, the welcome on this recent trip was a first: I was bucked off a speeding horse, who I think was anxious to get home. I was, however, finally able to use the excellent services of the local clinic medic – trained by AHF over 20 years ago! – who expertly patched me up.
In the five days we spent in Upper Mustang, we rode to eight villages, going north almost to the border. But the suffering we saw in the 25-household nomadic village of Chungjung at 13,000 ft stood out in my mind. Though spring had arrived early, the winter had been brutal with deep snows, and the villagers had lost 300 precious yaks plus 700 sheep and goats. Almost their whole livelihood.
We sat with the community alongside our partners, including the present King of Mustang, and what shone through, astonishingly, was their resilience in the face of such hardship. They shared what little they had with us, and, over lunch and tea, told us how knowing that the AHF-supported day care was going to open shortly lifted their spirits.
We also visited many of the other 13 day care centers AHF supports, and saw children lovingly cared for by mothers and helpers, laughing and playing and learning in English, Nepali and the local language. The daycares prepare these little ones for school and build good hygiene habits, but most importantly, they keep them safe while their parents tend their fields. In Mustang, where subsistence agriculture and herding is still how most people survive, the peace of mind it brings is priceless.
It was great being back, to see people who have become trusted friends over the years we have been working in Mustang. And to appreciate the resilience with which the people are adapting to the pressures of a changing climate and the road.
PS. I'm told the horse I was riding is the fastest horse in Mustang.