Aruna from the field
I was just on a field visit in the Far West. People now are more worried about food and work and less about Corona. I understand their point. There is a lot of suffering. We met many people, students, their parents, and school teachers, and everyone is sad. We were trying to cheer them up with materials, books and clothes. I am sad too, but try to gain some smiles when I see a smile in the face of the girls.
At the beginning of the lockdown, we did not know what to do. Everything was closed, everybody was very scared. The word "Corona" was like a death sentence, especially for the people in rural areas, who did not have access to information.
Our support teachers were also afraid, and it took us some time to make them understand that with Corona we have to prevent it ourselves, and we have to work in the field to make people understand how to stay safe. We motivated our support teachers and shared information through telephone, Facebook, and a small booklet about COVID-19 we prepared.
In Nepal, the schools have been closed for the last six months. Although the government has started a program of learning from internet, radio, and television, most of our students do not have access to television or computers. However, we have started mobilizing our Friday teachers, support teachers, volunteers, and alum girls to gather information about our girls, their families, and their situations.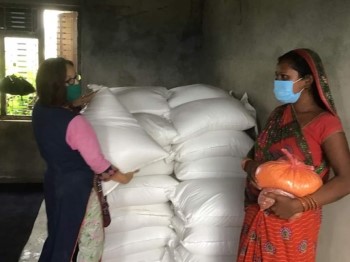 I am very happy to say that most of our girls are safe. Some of the girls have migrated with their families to another town, or the village from where they had come from, because it is not possible for them to stay in a place where they do not have work. Many girls' parents who had gone to India as laborers have come back and are facing a lot of challenges.
The government and some organizations have provided some food, but it is not enough. Even we have provided food support to 2,400 families in SGT communities. I am happy that, with your support, we are able to help them in some way.
Dr. Aruna Uprety
Founder, STOP Girl Trafficking