Big smiles at Namche Dental Clinic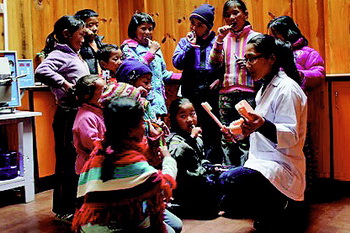 It's springtime, and the world's highest dental clinic, Namche Dental, is taking patients again after a brief winter hiatus. As the only dental care facility in the Khumbu, the clinic treats about 1,300 people a year from Namche Bazaar to as far as Gokyo—a three or four day walk—treating locals, trekking guides and foreign visitors.
Between patient visits, the clinic runs a program to educate local primary school children about dental care. The kids learn about preventing gum disease, the importance of a healthy diet and abstaining from sweets and tobacco. And they have something to smile about: in the 24 years since AHF built the clinic, Namche staff have seen a noticeable decline in tooth decay among the children.