What's cooking in Kahule?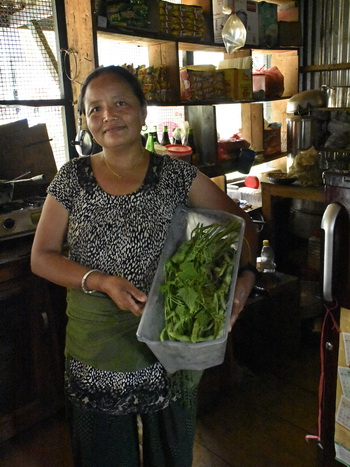 Maina Lama is 42 years old, the proud mother of three sons, and for a number of years has been serving up home-grown chilies, cabbage, cauliflower, beans, and mixed greens at a small café she runs in Kahule's central bazaar. It's an opportunity available to few women in rural Nepal, made possible by her membership in the United Women's Savings and Loan Organization. This cooperative of 580 farmers helps the poorest women earn an income—and the respect of their families and communities.
"I lost my house and most of my supplies in the quake," said Maina. "I managed to salvage only enough food for my family to eat for two days."
"For a couple of years I have been growing vegetables with [UWSLO's] help. I'm able to grow enough to feed my family, use in my café to cook for customers, and usually have some left over to sell through the distribution center," she told me on my recent visit to the village.
Most Nepali farmers grow scarcely enough crops to support their families for a few months out of the year. But the ladies of UWSLO learn to raise crops with greater yields and how to grow off-season, leaving them with enough left over to sell. So women like Maina have more control over the household income, and can pay off crippling debt or send their children to school.
Kahule was badly hit by the April 2015 earthquake that devastated swathes of Nuwakot, Sindhupalchowk, and Kathmandu. The quake killed about 100 of the cooperative's members, demolished their homes and distribution centers, and their meeting hall and small office building were condemned as unsafe to enter. Their harvested crops, seeds, and farming equipment were stored in attics of their homes at the time, and most of these were also lost.
AHF quickly responded with deliveries of rice, lentils, cooking oil, and sturdy tarps. We gave the cooperative enough funds to rebuild and replace seeds and equipment, so they could get back to farming, and earning, again. Over a year later, most are still living in temporary structures, but their new distribution centers and offices are now almost ready for use.
"I lost my house and most of my supplies in the quake," said Maina. "I managed to salvage only enough food for my family to eat for two days. We lost everything, so my husband had to leave us and go to work as a migrant laborer, somewhere in the gulf. I took the seeds from UWSLO and replanted a short while after the quake.
"The income I make from the café is crucial for my family. We will have to save the money my husband earns overseas to rebuild our home.
"My customers are mainly villagers who come to the bazaar for some business, the people from the Red Cross who are helping repair our drinking water systems, and bus and truck drivers. They all tell me how delicious and fresh-tasting my vegetables are!"
And I would certainly have to agree, after a very tasty lunch of mixed bean curry and fermented mustard cress fresh from Maina's farm, with rice and lentils on the side.